SWM026: Last Minute Father's Day Gift Ideas
Podcast: Play in new window | Download | Embed
Subscribe to the Podcast: Apple Podcasts | Google Podcasts | Spotify | Amazon Music | Android | iHeartRadio | Stitcher | Podchaser | Email | TuneIn | Deezer | RSS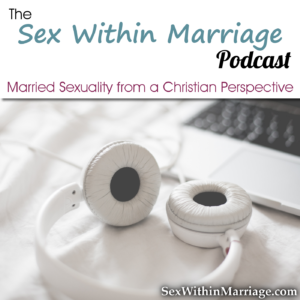 Father's Day is this Sunday, and I thought we'd share some last-minute Father's Day gifts for those wives who listen to the podcast.  We've got some free options, some not-so-free options and some options that are a bit of an investment, but all of them you can manage to pull off even the day before Father's Day.
Now, most of these will work for husbands who are the higher-sex-drive spouse.  If they are the lower drive spouse, w ell, then it's a bit more difficult to buy for.  You're going to actually have to figure out what they want.  But, for those wives with high-drive husbands, usually what fathers want most for Father's Day is the act that made the fathers in the first place: sex.  So, here are some sexy gifts for you, or rather, for him.
Give him an old tie
This is an idea I had a couple Father's Days ago.  You can read about it here.  This is the free option, assuming your husband has any ties.  If it's an old one he never wears anymore, even better.  All you need to find is a box or a bag to put it in.
"Do It Better" is on sale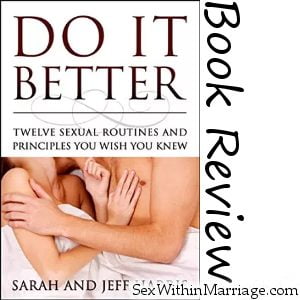 A while ago, I did a book review of Do It Better: Twelve Sexual Routines and Principles You Wish You Knew, and this week Jeff (one of the authors) emailed me to say that it's on sale for only $0.99 for kindle this week until Sunday.  Get the book and read it together and focus on your sex life for a bit.
Sexy Coupons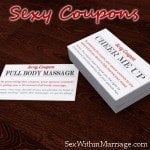 Another idea is our sexy coupons printable in the store.  This instantly downloadable PDF contains printable sheets of coupons to give to your husband on Father's Day.  It contains 50 pre-typed Sexy Coupons, plus a sheet of "make your own" hand written coupons, that you can print and choose from to give to your spouse as a gift. You can print them on regular paper, card stock, or buy perforated business cards to make it easier.
Plus, it includes a 10% discount code for MarriedDance.com, which might make buying this item an actual savings.
Commit to being sexually engaged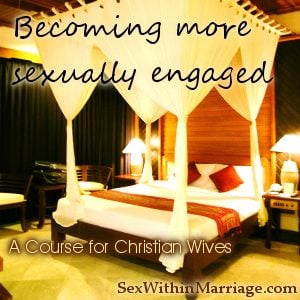 This gift is a little more … subtle.  There's no box to give him, and he's going to have to be patient.  If you've been reading the blog for a while, and you're a wife whose struggling to become more sexually engaged, check out our course for Christian Wives – Becoming More Sexually Engaged.  Give your husband the gift of working on being more engaged sexually in your marriage.
This course will help by breaking down your unhealthy mental barriers about sex, learning about your husband's desire for you, and help you be more willing to accept him, and yourself, as sexual beings. If you have a desire to become more sexually engaged, but are not quite sure how to start, this is the course for you.  Use the code FATHERSDAY to get 50% off the course.
Learn to give Couples's Massages
I've mentioned this before, and I don't get any commission for mentioning them today, but the Melt program by Dennis at CouplesMassageCourses.com is fantastic.  It's another gift that's a bit of an investment, and will take some time, but you can start learning immediately and start putting your new skills to work the same day.  The videos are clean, but informative.  There's no nudity, but they will teach you how to give a sensual massage (that you can then easily transition into a sexual massage).  So, if you want to give a gift that's for both of you, this is a good option.
So, there you go.  Some gift ideas for Father's Day.  Alternatively, you can go shopping at Amazon using our link and we'll get a bit of a commission.
Looking for more help?
---