Description
Remember when Christmas was exciting?  I mean, it still is, but it also comes with a lot of stress.  This stress causes many couples to struggle to maintain intimacy during the holidays. Not just physical intimacy (but that too), but it's also a high-point for arguments and blow-outs. So, we wanted to make something that encouraged us, as a couple, to draw together during this season.
The Christmas Countdown Coupons is a printable set of cards to help keep intimacy alive during the busy season. It took us a while to figure out how to manage things like visitations, big dinners, people's differing boundaries and comfort levels around certain sexual activities, travel, and even periods. But, we think we found a fairly elegant solution.
This product comes in three versions: Romantic, Sexual and Black Label:
The Romantic Set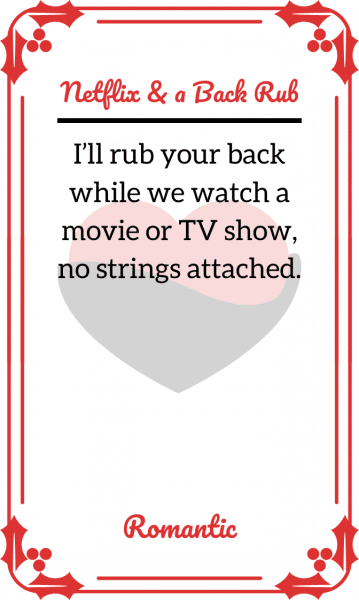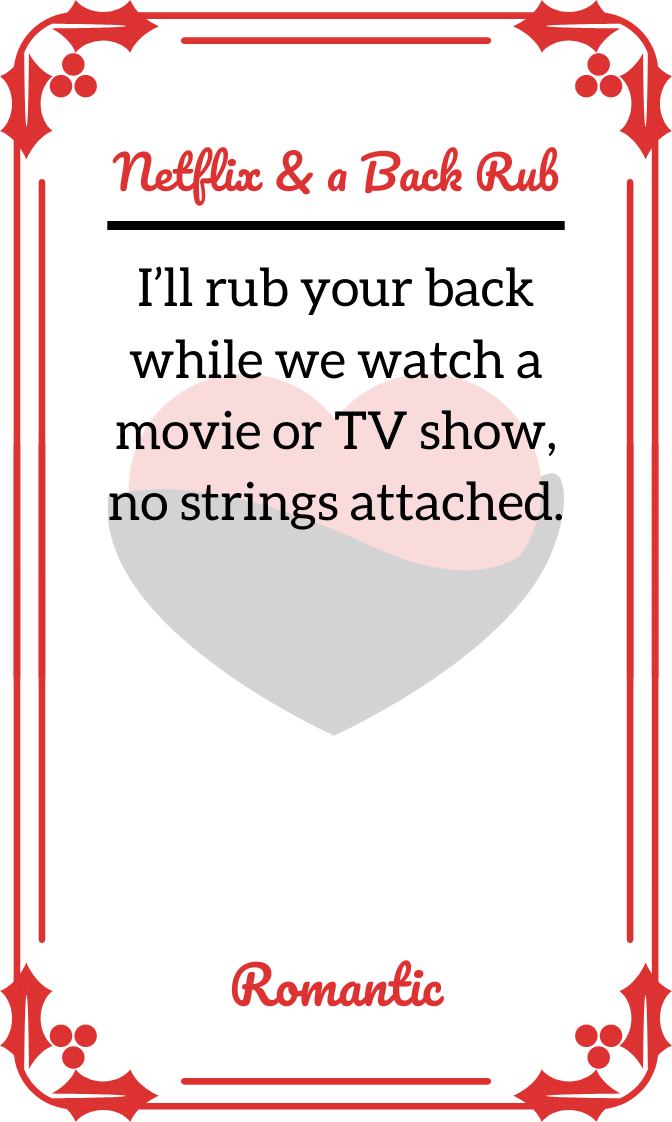 This set contains 28 activity cards for you to choose from as well as 2 modifier cards to give your spouse some extra options should you wish.  It also comes with a page with different templates so you can fill in activities that you didn't find contained in the product, or perhaps an activity that has special meaning to you.
As well, 25 envelope templates are provided, one for each day from December 1st to Christmas Day.  Simply cut them out and fold them over the cards you've chosen.  That's what makes the idea of an Christmas Countdown so exciting: your spouse won't know what activities you have planned for them.
If sex is a touchy subject in your marriage, you don't think your spouse would be happy with a sexy gift, or if you just would rather focus on romantic activities, this set is for you.
The Sexy Set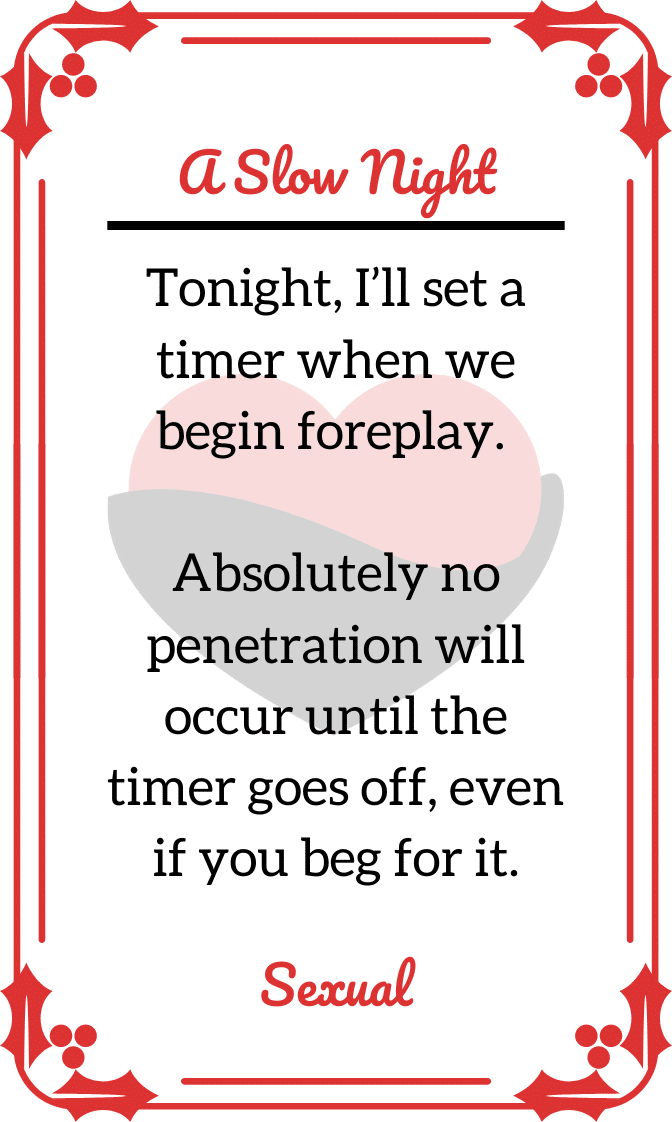 The Sexy Set includes everything in the Romantic Set as well as an additional 30 activities for you to choose from that are all of a sexual nature.  Depending on your marriage, busyness of the season, monthly cycles, expected exhaustion levels, or anything else you can plan around, you may wish to choose both sexual and non-sexual activities to gift this holiday season.  Items include oral, manual and mutual masturbation
If you and your spouse prefer sex to be straightforward with maybe a little manual and oral sex thrown in, then this is the set for you.
The Black Label Set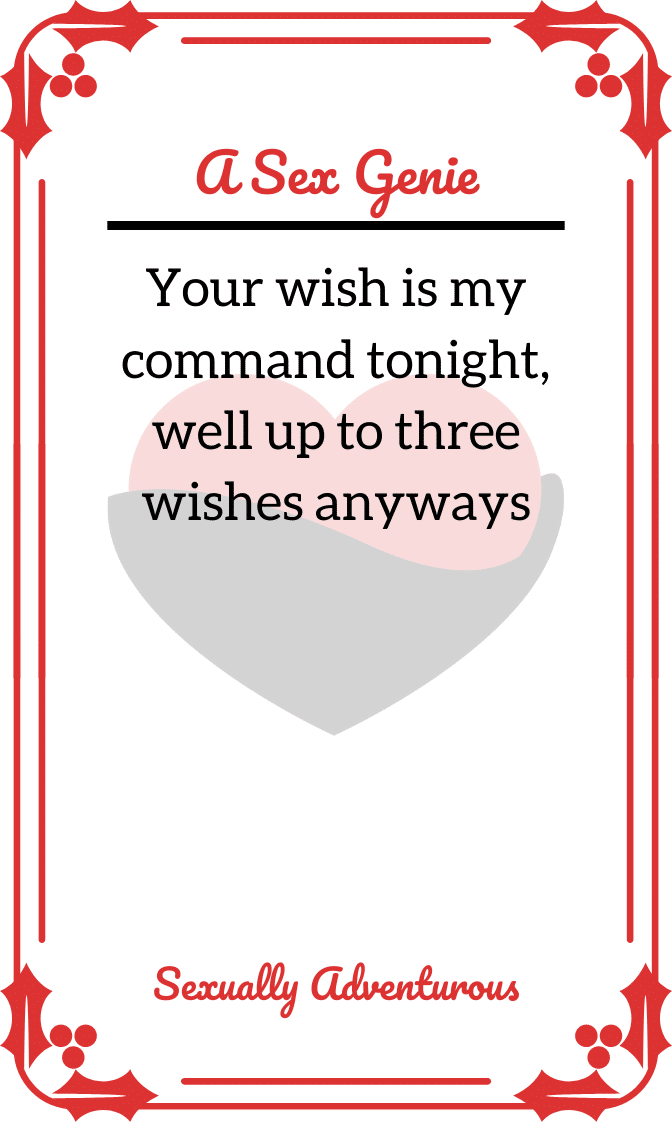 While the sexy set will generally be okay with most people, this set starts pushing some of the boundaries many people have.  This set includes the previous two, plus 40 extra cards that contain activities including bondage, hair pulling, anal play, power exchange and other edgy topics.  Of course, you're welcome to choose the activities you are okay, mix them with the Romantic and Sexy Sets' cards and leave the rest alone.
If you and your spouse are the adventurous type in bed, then this is the set for you.
Printable and ready to use
All you need is a printer, some paper (card stock makes a nice touch though), scissors and some glue or tape.  Within minutes, you'll have a unique gift for your spouse that's sure to promote intimacy over the Christmas season.