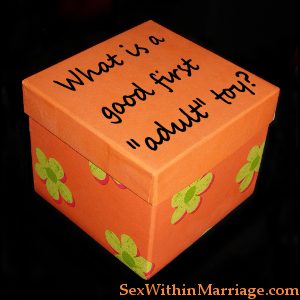 Well, it's the Christmas season again, and apparently a lot of people are thinking about buying some "adult" toys for presents (I'm going to assume for their spouse).  The last few surveys (which were a while ago, we really need to run another one), I've gotten quite a few emails asking about adult toys, what to buy, what's good, and so on.  Also, people asking what is available, what are the options.  So, here's my rundown of adult toys.  I'm going to be linking (extensively) to MarriedDance.com, because they are a store I trust, they are Christian, don't show live models, and they say everything arrives in 5-7 business days, so it will still get there by Christmas, and have free shipping over $35.  You can check out the product for yourself if you are so inclined.  Also, in the interest of full disclosure, they pay me a commission, which helps support this ministry, things like hosting, the domain, the mailing list, the podcast file storage, and so many other incidentals.  So, if you are in the market for a toy, go ahead, but this isn't intended as a sales pitch.

First, I want to link to a the post Are sex toys allowed in a Christian marriage? to answer some of the basic questions like "Is it okay for Christians to use sex toys?" and "Do Christians use sex toys?", but the short answers are that the Bible is silent on the topic, but we can infer some basic guidelines.   Also, our survey shows that about half of Christian couples seem to use sex toys at least on a monthly basis.
Where would I buy one?
This is the hard part for many people.  Where do you go to buy a adult toys?  After all, most don't want to walk into a regular adult toy store and be confronted or tempted by porn DVDs, explicit posters, or any of the other things that one might come across while there.  But, you can't buy sex toys at church either, so what do you do?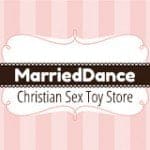 Well, there are some places you can go.  As I said, one such is our friends over at MarriedDance.com who run a Christian friendly sex toy store.  They are dedicated to providing quality, safe products that are appropriate for Christian couples.  Now, everyone has their own set of rules about what is appropriate or not, so you may or may not agree on every item in the store, but at least you can be sure that they don't carry things that are obviously against God's guidelines for married sex, like pornography.
As well, they make sure that all their products are free of toxic substances, which is a blessing, because adult toys are considered novelty items, and so aren't regulated by any health standards, and there are some nasty things in some adult toys that you shouldn't be putting in contact with your body.
Thankfully the owners of Married Dance have done the work for you as they have chosen not to sell any product that could be potentially harmful to their customers.
What should I buy?
This is one of the most difficult questions to answer, because everyone has their own opinions, preferences, hang-ups and turn-ons, but I think I can provide a short list of come good beginner friendly toys.
Bullet vibrator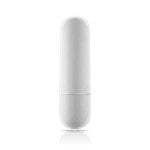 Bullet vibrators are simple toys that, while they can be inserted, are generally held just on the clitoris to provide pleasure for the wife.  They're typically small an unobtrusive so you can use them during sex, either by holding them in place, or just placing it between your bodies.  Bullet vibes are perfect for a first toy, because you don't need to insert them (which can be a bit daunting the first time), and because they provide direct clitoral stimulation for the wife, which is often what is needed most.
Married Dance recommends the Iconic Bullet (shown in the picture), because it's well-made and inexpensive (under $20), a great entry-level toy.
"Traditional" vibrator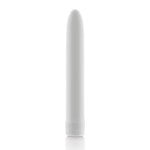 "Traditional" vibrators are the style that one generally thinks about when you know nothing about vibrators.  They're long, slim, with a "volume" control at the bottom.  You can use them on the clitoris, or inserted into the vaginal canal, but I wouldn't recommend them for anal play, if you participate in that, because they aren't flared at the base.
The "volume" control at the bottom actually changes the intensity of the vibrator, which is a nice feature, because you can start off slow and ramp up as needed.
Married Dance recommends the Iconic Smoothie, for the same reasons as the Iconic Bullet above, it's cheap (just over $20), but well-made.
Massagers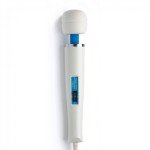 Massagers are a class that were traditionally designed as a massage tool, but then people found out that they make amazing adult toys.  The classic example is what used to be called the "Hitachi Magic Wand", until Hitachi found out people were associating their company with sex and promptly renamed it to the "Magic Wand Original", I think they also started selling it under a different company name too (Vibratex), as Hitachi no longer supplies them under their brand.  But, if someone sees this toy, in your bedroom, you can pass it off as a massage tool, which is technically true.
Anyways, the Magic Wand, and similar devices, provide a much stronger, much deeper vibration.  Typically you plug these toys into a wall socket, though there are rechargeable models, because they require a lot more power.
If you have difficulty having an orgasm, these have jokingly been called "magic" for their ability to coax one out of you.  In fact, there was a study done with 500 anorgasmic women that found 93% could orgasm using the magic want.  But, that's still only 93%, not a guarantee.
Because this is such a strong toy, I'd suggest placing your hand over the clitoris, then the toy on your hand at first, or gripping the end of the toy, and using your fingers, letting the vibrations travel down your hand, because your first touch with this toy might be a bit shocking if you're of the more sensitive type.
The magic wand is a bit steeper in price at about $60, but well worth the money.  I'm told these things never die (though after 25 minutes you might need to let it cool down, but by then you might need a break anyways).
You get what you pay for
Keep in mind, you get what you pay for.  While I've heard of people owning a single magic wand for 30 years (it's been around since the 60's), I doubt the iconic toys would last that long.  Cheap toys don't last, it's as simple as that.  If you pay under $25 for a toy, expect no more than a year out of it.  If you buy a $100+ toy, sometimes they come with 10 year warrantees, more options and stronger vibrations.  So, just be aware.
Whatever you buy, try it twice (at least)
Sex toys are a bit weird.  When you buy one, you feel a bit embarrassed, but excited.  There is a nervous anticipation, and that can throw things off.  Sometimes it means that your first orgasm with a toy will be the best, and sometimes it means that the first time will be the worst.  For example, the first time we used the magic wand, I was disappointed after all the hype about it.  Now, it's probably our most used toy.  So, if you don't like it, try it again.
How do I bring up buying an adult toy with my spouse?
Honestly, it depends on your spouse, and I can't tell you which way would be best for yours.  Some spouses need to discuss each new addition into the bedroom, some need to be convinced that they aren't lacking or that it isn't a statement of their failure to provide pleasure.  Others will love any addition (within reason) and want to pick it out with you.  Still others would prefer you surprise them, because choosing one is too scary, but they really do want to try it.
If it's your first adult toy, I think it's wise to at least bring up the topic of toys in the bedroom and see what their reaction is.  If they seem appalled, DO NOT SURPRISE THEM WITH ONE.  If they are hesitant, don't buy a magic wand, as that could be quite intimidating (it's not a small toy).  If they're super excited and sure they'll like it, maybe spring for a higher-quality toy (we personally like the LELO and We-Vibe brands).
I hope that helps answer any questions you might have about buying your first adult toy.  If you're considering a purchase, I'd invite you to check out Married Dance and see what they have to offer, and use the coupon code sexwithinmarriage to get 10% off your purchase.
Looking for help?
---