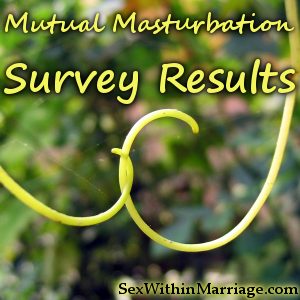 A few weeks ago, we wrote about mutual masturbation and tacked on a survey at the end. I had meant to write a more substantial post today on another topic, but to be honest, my brain is exhausted, and I just can't wrap my head around something too deep today and do it justice, so I'm going to sort of phone it in and just present the results of the survey. Maybe I'll do another bonus post on a quick topic again later in the week to make up for it, no promises. As is the custom, my wife's comments will be in purple.
Single Question Answers
Gender
Husband – 54% (84)
Wife – 46% (71)
Total Respondents: 155
I guess it's a touchy subject…not nearly as many respondents as our other recent surveys.
How many years have you been married?
1 to 4 years – 15%
5 to 9 years – 23%
10 to 14 years – 25%
15 to 19 years – 12%
20 to 24 years – 11%
25 to 29 years – 7%
30 to 34 years – 6%
35 to 39 years – 1%
40 to 44 years – 1%
Do you include mutual/shared masturbation in your marriage?
Mutual Masturbation (both spouses) – 36%
Shared Masturbation (one spouse) – 21%
We don't do this (neither) – 43%
How old are you?
20 to 24 – 3%
25 to 29 – 19%
30 to 34 – 14%
35 to 39 – 19%
40 to 44 – 13%
45 to 49 – 16%
50 to 54 – 10%
55 to 59 – 5%
60 to 64 – 1%
65 to 69 – 1%
How many times a week do you have sex?
Less than once a week – 17%
Once a week – 20%
Twice a week – 23%
3 times a week – 15%
4 times a week – 15%
5 times a week – 4%
6 times a week – 3%
7 times a week – 1%
8 times a week – 1%
9 times a week – 1%
How many times a week do you share masturbation with your spouse?
Less than once a week – 62%
Once a week – 26%
Twice a week – 5%
3 times a week – 4%
4 times a week – 1%
6 times a week – 1%
7 times a week – 1%
8 times a week – 1%
So, more than half are sharing this activity with their spouse, but the vast majority are doing so less than once a week. I wonder, is this something you both enjoy? Do you want to do it more often? Or is it purely a back up activity if normal PIV isn't possible or doesn't end in an orgasm?

Combined Questions
Does length of marriage have a correlation to sharing masturbation?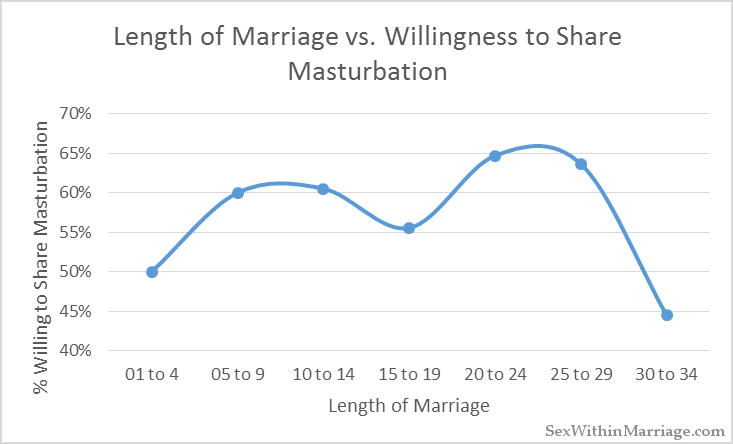 01 to 4 – 50%
05 to 9 – 60%
10 to 14 – 61%
15 to 19 – 56%
20 to 24 – 65%
25 to 29 – 64%
30 to 34 – 44%
Not really, it's fairly even across the board. The fluctuations are fairly minor really. I had expected something different. I had thought that as you grew in your marriage, the familiarity and the comfort level would increase, and so couples would be more willing to incorporate this into their activities. And we see a bit of a rise (10%) from the first 5 years, but beyond that, it's a negligible gain until after the 30 year mark when it seems to die off. Age seems to have a bit more of a pattern, but not much again. Under the age of 35, only 49% of the marriages participate in this. After that it jumps to 70% and slowly declines back down to 50% by the age range of 60 to 64.
There is also the thought that as you are married for longer, you get into a rhythm or pattern, you don't really want to venture into new territory of exploring something new like this. Perhaps you are afraid of the reaction of your spouse if you wanted to try it. I would say that communication is key to unfolding an activity like this. It is a touchy subject that takes the right time and opportunity to bring up.
Do couples who use mutual masturbation in their sex life have more sex?
Short answer: Yes.
Couples who don't use any sort of shared masturbation at all are having sex, on average 1.7 times a week. The couples who are sharing mutual masturbation have sex on average 2.8 times. This isn't insignificant. This is just over once a week more. Why is this?
Well, we don't know really. I could hazard a few shots in the dark though. I'd guess that:
Couples who have more sex tend to have more of all kinds of sex.
Couples who are more comfortable with their own bodies and are willing to be seen naked and vulnerable with their spouse have more sex.
Couples who teach each other and explore together how they like to be touched, or how they achieve orgasm easier might have more sex, because it's more pleasurable and leads to orgasm more often and/or faster.
Having more orgasms tends to want you to have more orgasms. So, any sort of sex (manual, oral, etc.) which ends in orgasm is likely to make you more likely to want sex in the near future.
All of Jay's guesses make sense. I know for ourselves it came into play when we increased our frequency and wanted to spice things up a little. We had other issues as well, but all 4 of those things he mentioned were true for us. I would also say that when you participate in mutual masturbation that you will get more comfortable with your own body and allow yourself to be more vulnerable, so that one can go both ways.
Your Turn
Let us know what your thoughts are on the results. Is a correlation we didn't check that you'd like to see? Or something we should ask in a future survey? Let us know in the comments below.
If you have questions about masturbation in marriage, you might be interested in these:
Looking for help?
---