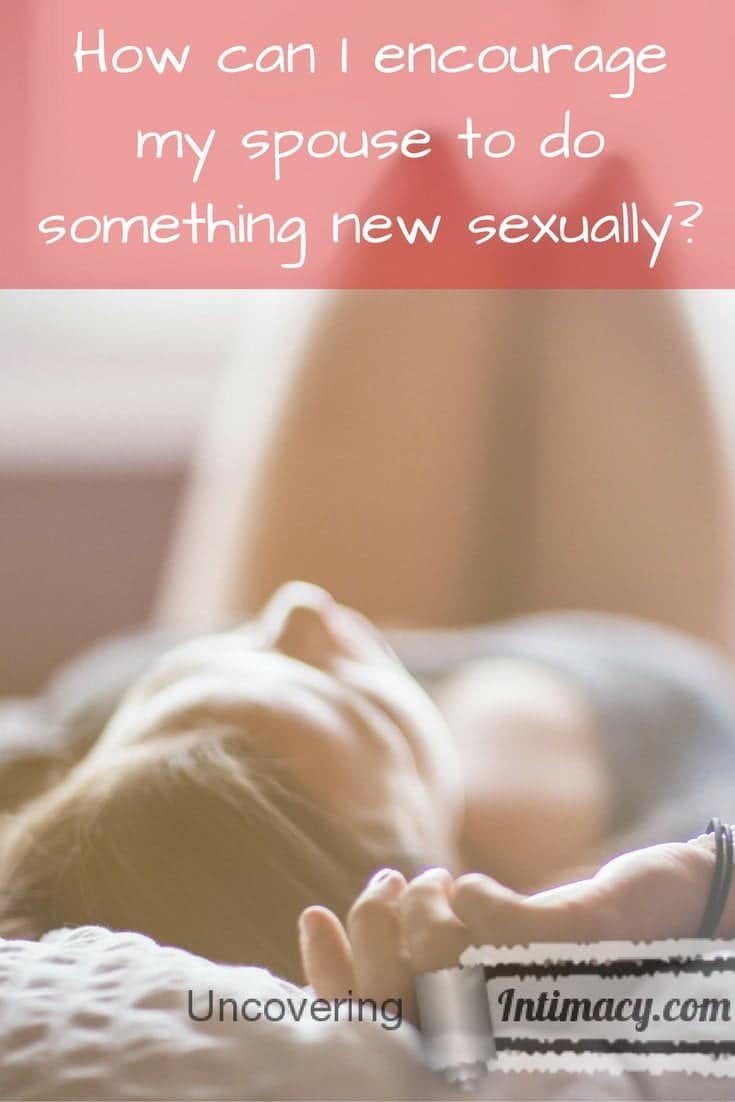 I regularly have someone ask me how they can encourage their spouse to do something new sexually.  For example, here's a question from our Have A Question page:
How can a husband encourage his wife to deep throat and swallow his semen without seaming demanding or better yet coach her without her misunderstanding his good intentions I really want to be helpful and support her in her struggle with it.
It doesn't have to be about deep-throating or swallowing.  It could be about having sex with the lights on, bondage, hair pulling, clit slapping,  sex toys, or anything else.  So, how do you do this?
It depends on the activity
First, check if the activity is something that is going to help or harm your marriage.  I've had people email me asking if it's okay to engage in things that would be damaging to their marriages. Things like threesomes, cuckolding, swapping, watching porn together, and a host of other activities.
First, check if this is something that's going to pull attention away from your spouse.  Is it something that will damage your relationship or build it up?
And it's possible that something that isn't "wrong" can still be damaging.  If your spouse has a been sexually abused in the past, playing with bondage may be a damaging thing.  I don't think bondage is wrong, but it might be wrong for your marriage.
It might also be that some things are wrong for your marriage right now.  Especially growing up in the Christian faith, we get a lot of messed up messages about sex.  I've talked to quite a few people who had serious issues with oral sex.  Their upbringing convinced them that engaging in oral sex was going to send them to hell.  If that's the case, you have some groundwork to do first.  You cannot encourage your spouse to do something that they consider immoral without damaging your relationship.  First, you have to deal with the false teachings, then you can try to encourage new behaviours.
Who does this activity benefit?
Second, you have to check yourself about who this activity is going to benefit.  All activities should benefit both spouses, even when it's not giving direct physical pleasure to both.  I enjoy trying new activities with my wife that give her physical pleasure because I enjoy watching her enjoy it.  So, those activities benefit us both, even if indirectly.
But, if you have an activity that's only going to benefit you, then you might want to hold off until they ask.  In the question above, some wives enjoy-deepthroating, and some do like swallowing.  But not all do.  We saw that in our oral sex survey.  Some find it oppressive and degrading.  Some not only don't get any sort of pleasure from it, but it detracts from the sexual experience.  In fact, for some, it damages the relationship itself.
If that's the case, then you should hold off until they either ask for it or ask if there's something they can do to bless you.  Because then their heart is in a place where they might enjoy it simply because you do.  And they might never get there, and that doesn't mean their heart isn't in the "right" place.  It just means it's not in a place where you can suggest that activity.
How do you encourage something new sexually?
Before anything else, ask the question about whether it's something they'd be willing to try.  That's step one.  Don't ask if they will do it, ask if they'd be willing to consider it.  If they say "no", then there's no point in going further.
If they say "yes", then discuss it some more.  Explain what you mean, how you could see the two of you acting it out.  Share why the idea arouses you, or what you think they will get out of it.  Give them space to ask any questions they have.
If they're excited about it or show interest, then you can try it out.  If not, they may just need time to think about it.  We've had things in our marriage bed that have taken my wife years to get comfortable with the idea of.  Some that started with a "no, never, don't even ask" and later became a regular activity.  But, only because I didn't push for it.  I just let it sit and let her change her mind when she was ready.  I've learned whenever I push, I just end up pushing it further towards the "no, never, don't even ask" side of the spectrum.  And they may never change their mind.  There's no guarantee they will.  But this gives them the best chance to think about it instead of outright rejection.
After you try it, talk about it again.  What went right, what went wrong.  Did they enjoy it, did you enjoy it?  Are they willing to try it again?  If so, what could we do to make it better or easier?  If they don't want to try it again, then you have to graciously accept that.  Thank them for being willing to try it once.  That will make it easier to try another thing some other time.  If you sulk and pout, they will never agree to try anything new again.  It won't be worth the outcome if they decide they don't like it.
So, be thankful, be gracious, be loving.  There's no guarantee this will get your spouse to try something new, after all, you can't make your spouse do anything.  But, this will certainly improve your chances.
---
One caveat
There are some spouses who are far more submissive than others.  They don't want to be asked, and they don't want to make the decision.  These spouses are usually women, but not always.  I find this is  often caused by an upbringing that taught them that sex is for their husbands. They've learned that they shouldn't act like they enjoy it, at least not overtly.  Saying they want to try something or giving their input is too much like admitting they like sex.  That can take years and decades to work through.  If your wife is like this, then you can try just introducing new things without all the discussion.  The discussion will actually set you back until you get her background resolved.  
Start small, don't jump to radical things.  Try a new position or something else that's not intimidating.  Also be aware that you need to be very careful to watch for whether or not they are enjoying it.  These wives often also have a tendency to just act like everything is okay and may not tell you they didn't enjoy it.  One thing you can try is asking "Do you prefer to discuss new things before we try them in bed, or would you prefer I just try them with you?"  That's not quite the same as indicating they actually enjoy sex, so they may be willing to answer that question.
Looking for help?
---