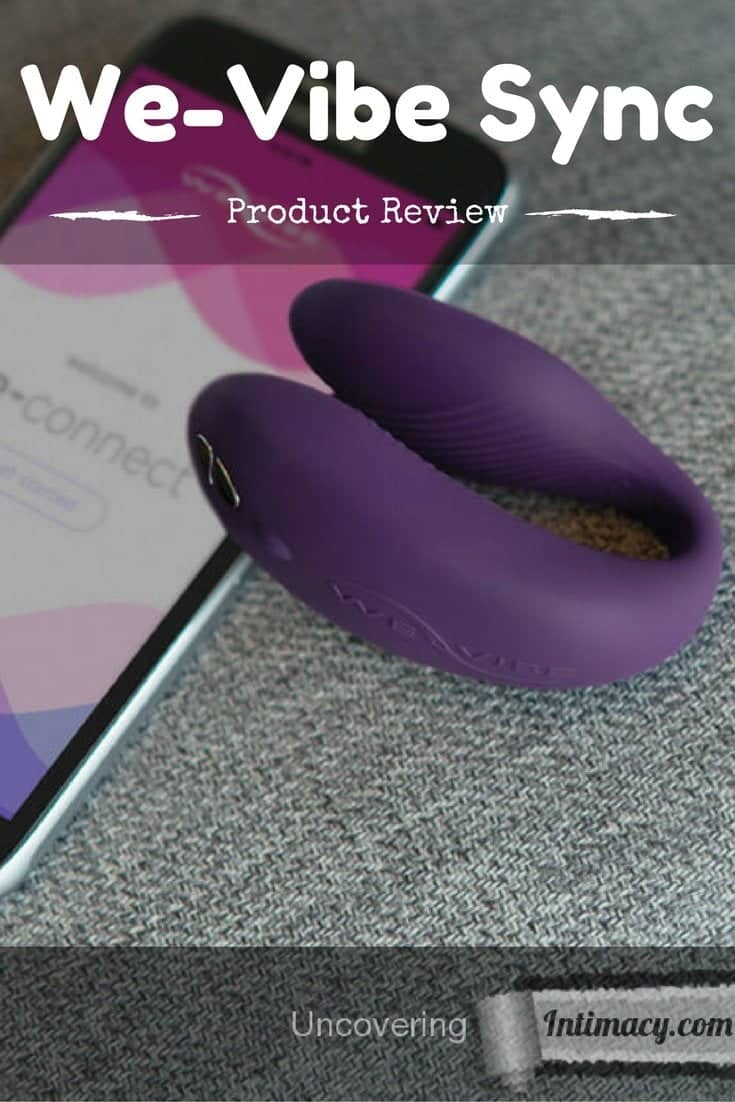 A couple of weeks ago I received a We-Vibe Sync in the mail. I absolutely love the We-Vibe V1 we bought quite a few years ago and was looking forward to the updated version. We-Vibe promised I wouldn't be disappointed and they were right.
About the We-Vibe Sync
This vibe is a dual-motor insertable couples vibrator that can be used during sex. Yep, you can have the vibrator in and on and still engage in penetration. That's one of the reasons why I like it because it's completely hands-free and doesn't get in the way while having sex.
Because most women need some sort of clitoral or g-spot stimulation to orgasm during sex, and this sex toy takes care of both. It has two separate motors in it, one each for the g-spot and clitoris. You can choose from 10 different vibration modes as well to find one that works best for you.
It also has two separate pivot points, which help you adjust it to fit your body. This is amazing because I find a lot of other sex toys just sort of assuming every woman is shaped like whoever they chose as an anatomical model. In reality, women have the same parts in the same order, but the distances between them, as well as placement, can vary quite a bit, so being able to find toys that can suit your body type can be difficult.
It's easily charged by placing it in the base and letting the magnets align the charging pads properly. Just make sure the charging light on the base is turned on. It sucks getting 10 minutes into foreplay and having it die on you because you didn't charge it when you thought you had.
But, that just takes a habit of checking the light before assuming it's charging.
Controlling the We-Vibe Sync
The We-Vibe Sync can be controlled via either the remote control that comes with it or the We-Connect app that you can download from your phone's app store.
Personally, we found the remote doesn't work great. It doesn't seem to want to go through bodies, and when you have a toy that's close to/half inserted into a body, that's a bit of an issue. So, we use the app instead, which gives a lot more control options as well as a better experience. The remote is also a bit noisy when clicking, whereas the app is silent.
Using the We-Connect app
The app is easy to use, and with just simple finger swipes you can adjust the strength of each motor. One motor sits over the clitoris, and the other presses against the g-spot. So, when you're just getting started, you may want less vibration on the clitoris until the wife gets more aroused, then you can turn it up a bit. You can also change between many different vibration patterns, like waves, steady vibration, beats, etc.. You can also make your own patterns and sequences.
There's also a function to let it work with music and it will go with the beat of the song, but we haven't tested that out yet.
More features in this couples vibrator
The covering of the toy is soft, easy to clean and completely sealed, so there's no worry about lubricant getting into the device like there was with earlier models. The motors are surprisingly strong for it being such a small toy, but the flexibility of the app lets you change the strength if it's too much. It's also body-safe, everything We-Vibe makes is, which is important because the sex toy industry isn't regulated, so you have to choose companies that you know took the time to find safe materials.
You can also pair We-Connect apps between phones, so if you have periods where you're separated, you can actually have phone/skype sex while controlling the we-vibe from anywhere you have access to the internet. That's a pretty cool feature for those who have to be away from their spouse for an extended time.
Where to buy the couples toy
All in all, this is an awesome sex toy that's perfect for playing together as a couple.  To be honest, we've used it every chance we could since we got it.  It's just that much fun.  The regular price is about $199, it's not cheap, but, as I said, my first We-Vibe has lasted half a decade so far and still works.  Though I don't think I'll ever use it again now that we have the We-Vibe Sync.  The difference between the two is astounding.  If you're interested in getting your own, you can check it out on MarriedDance.com and use coupon code UNCOVERINGINTIMACY for a 10% discount.
I also took a video showing the toy a bit as well as the charger and how the app works. You can view it below, or here on YouTube.
I'll have more product reviews coming up soon, so be sure to subscribe so you don't miss any of them.
Looking for help?
---