SWM 064 – Oct 2020 Questions – Body odour, remarriage, doggy style sex and more
Podcast: Play in new window | Download | Embed
Subscribe to the Podcast: Apple Podcasts | Google Podcasts | Spotify | Amazon Music | Android | iHeartRadio | Stitcher | Podchaser | Email | TuneIn | Deezer | RSS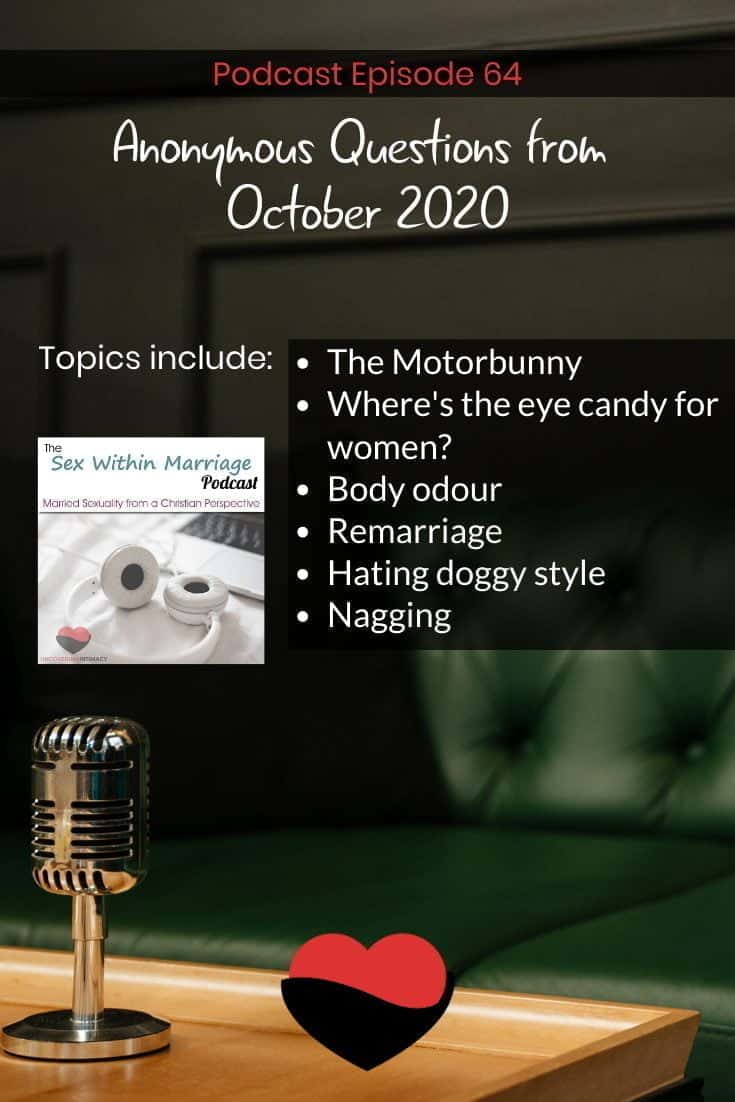 We're a little late this time. Last month I had devoted a large portion of my time to writing my sermon and so didn't get around to posting the answers to the questions received from our anonymous Have A Question page during October. So, today I'm posting them, and we'll do November's in a little bit, before December is finished.
Question 1 – Motorbunny
Hey Jay, I know you have done some sex toy reviews, but I was wondering if you know anything about this particular item.

It is called the "motorbunny" it is a saddle like Arch that you are supposed to kneel over it and it has different attachments for penetration and vibrations.

from what I have read this is the mother of all sex toys and once you try you'll never go back…… so good in fact that some people tried to make their own replicas because of the very expensive cost.

Thanks
I'm not aware of that particular company, but I am aware of the style of toys. We've never tried one, and I can't see myself purchasing one. For one, as you said, the cost is generally very high ($900 for the Motor Bunny, more for other models), secondly, if it's as good as you say "once you try, you'll never go back", well, then that sort of ruins sex, doesn't it? I don't want any toy that once you try, you'll never go back to anything else.
Thirdly, well, I'm in favor of toys that couples can use together, this style of toy, that doesn't seem very possible. The reason for that is because I think toys should enhance a couple's relationship together, not be the focus of it. I'm not sure there is anyway for this toy not to be the focus of the session.
So, no, I don't know much about it, and I don't think I'm terribly interested in it myself.
Question 2 – Where's the eye candy for women?
This one you won't believe but here goes. I'm a 66 years young woman & not married. QUESTION: how much more does a man think about sex than female in an hour, day or any time period? Seems like I've been told by men, articles, media, women magazine, other females and also M/W Pastors. Is it just the makeup of a man? Is it impossible for a man not to think of something sexual. Topless bars, male magazines and not to forget we can't enjoy professional basketball, football or hockey without scantily clad young women. Yes I know selling female skin brings in more money so why not have some nice "v" shaped, daisy duke wearing men joining the female's for us women who can't buy their own ticket?

"Once a rose always a rose". Thanks, Sara
It's generally accepted that men, on average, tend to be think about sex more than women. However, that doesn't mean every man thinks about sex more often than every woman. But, yes, there does seem to be something in our makeup that causes men to be more easily visually stimulated.
Women tend (again, on average) to prefer sexual contexts, rather than simply sexual imagery. This is why romantic novels, romantic comedies, etc., tend to appeal to a more largely female audience.
However, in both cases, they're barking up the wrong tree. What both men and women are designed to really want, what will really satisfy their desires is a relationship in which those desires are fulfilled. And so, topless bars, cheerleaders, porn, or 50 Shades of Grey type novels are actually pulling them further from what they truly desire, rather than towards it. It's like your body is screaming at you to eat, because it needs to be nourished, and all you eat is jelly beans. You're not only not meeting the need, you are teaching your body to crave the wrong thing.
So, the question is a bit like asking "hey, the men are poisoning themselves … can we get some poison too?"
Question 3 – Body odour
Let me preface this question with the following statement. I love my wife, we have a great relationship, I love my marriage. We have great communication, save for this one thing. My wife smells bad. Even after showering, brushing her teeth, having otherwise well maintained hygiene. I cannot determine a definite source of where it is coming from. It's there when she wears deodorant or perfume, anything of the sort. I just don't feel comfortable bringing it up with her. I do not know how she would react. It's just a strange thing I haven't heard of elsewhere, hence I am turning here to you. I appreciate any thoughts or insights you may have. Thanks in advance!
Alright, so, first off, you said it perfectly – you don't know how she'll react, so, that's not a reason not to bring it up.
Secondly, if this is a whole-body odour, it might point to something out of sorts with her system. We happen to have a retired MD in our supporters group who said "Whole body odor plus halitosis (bad breath) could indicate a metabolic or endocrine disorder, like diabetes."
It could also be something in her diet that she doesn't react well to.
So, it's definitely wise to at least get it checked out.
As for how to bring it up, what about something like "Dear, I want to talk to you about something that I worry will embarrass you. I want to say first that I love you, and this doesn't severely negatively affect our relationship or how I feel about you. I've noticed that you have a peculiar smell around you, and it doesn't seem to be affected by anything you do, such as shower, brush your teeth, wear perfume, or anything else. I think it might be wise to get a doctor involved, just so we can make sure it isn't a symptom of something life-threatening or otherwise serious. It's unlikely, but I'd rather not ignore a potential warning sign if that's what it is."
And yeah, she might get a bit upset to mask the embarrassment, but you might also head off something potentially serious. I think that's worth the risk.
Plus, then you'll be able to say "we can talk about anything", and that's something to be proud of!
Question 4 – Remarriage
The church says don't remarry while your spouse is still alive or masturbate. Your ex-wife is remarried and you follow God's rule and not remarry even though your ex-spouse did. Some churches say you're going to hell if you're remarried and some don't. No one talks about masturbation. If it is ok to remarry WHILE your spouse is still alive then masturbation needs to be explained better. I am sick and tired of divorced remarried people telling me it is ok to remarry. Some SO CALLED PREACHERS are remarried. Any leader in a church with lust in there heart have committed mental adultery. If you're a leader in the church and you know that a woman with a supermodel body offered herself to you and know you would go for her then you have no right to judge masturbation. You can't even make up your minds if remarriage is ok or not, THAT IS SUPPOSED TO be MORE of A MAJOR SIN!!!!! The Church can't even get that right!!!
Alright, so, there's a lot in there to unpack.
Firstly, I agree with the stance that you shouldn't masturbate alone. I'm not going to go through the entire argument here, but the short answer is that I believe God designed sex to be shared with your spouse. If you want the long version or to argue with my stance, you can read this post and comment there.
Secondly, remarrying is a highly contentious topic. Here's the problem with the stance you gave:
If you cannot remarry, except for adultery, then if your ex-spouse does remarry and presumably has sex, then arguably they've committed adultery, since the divorce wasn't "valid", and so then you are free to divorce and remarry, are you not? So, there's a simple "out" if you want to be legalistic.
However, I think that reduces marriage, divorce and remarriage to a simple set of rules and completely misses the point. For example, I have no idea how divorce and remarriage are classified as a "more major sin" than masturbation. They're both taking something God designed and twisting it.
As for the leader admitting he'd have sex with a supermodel – I have no idea where that came from, so I'm going to ignore it as a rant.
Also, you keep saying "The Church" as if there is a single church. There isn't. I mean, I believe in "one faith, one Lord, one baptism" (Ephesians 4:5), however, Christianity as a whole clearly doesn't agree on what that one faith, one Lord, one baptism is. So, let's call it what it is – an utter disaster. So, there is no "the church" to rail against here. Merely a bunch of flawed people hopefully trying to follow God and failing miserably.
So, I'm not exactly sure what you're looking for here. It seems like you're looking for permission to masturbate because you can't get remarried. I'm not going to give that to you, because I don't agree with that. But either way, you should live according to your own convictions, not mine.
Question 5 – Doggy Style
My husband and I have been married for over 10 years. Two weeks ago, we've finally tried having sex in the doggy style position. I had an open mind, but I absolutely hated it. Firstly, I hated the lack of eye-contact. Not being able to see or kiss my husband made me feel very insecure. I tried looking back at him as much as I could, but it was a physically awkward turning my head. I also felt that the position was too submissive. I felt too exposed and vulnerable. I had no control. My husband and I have a very equal relationship, so being so submissive felt wrong. I really missed the intimacy and closeness of the missionary position. I just did not feel loved. As we were doing it, all I could think about was how much I just wanted for my husband to tell me that he loves me and for him to kiss me. At some point I even reached out and held my husband's hand as I was craving some sort of a connection. I held his hand until he had finished. Being able to hold his hand during it made it slightly more bearable. When my husband finished, I went straight to the bathroom and cried. Now I regret ever doing it and never want to do it again. My question: are my feelings normal? Am I right to feel this way? And how do I tell my husband about this because he seemed to have loved it?
Wow, alright, lots here again. Alright, so, right off the bat, you've never had anything except face to face sex for a decade – it makes perfect sense that something where you can't see or kiss each other might feel weird and disconnected.
As for the submissive part – well, I'm not an egalitarian, but my understanding is that even within the egalitarian idea, the purpose is to submit to each other, so I'm not sure why being submissive is a bad thing. In fact, I'd argue Christianity as a whole requires the idea of being willing to submit to others, to be their servant, to love others sacrificially. If you struggle to submit to your husband because you don't feel like you're in control, I think you're going to find you struggle with a lot of things, inside and outside of your marriage.
Feeling too exposed and vulnerable with your husband points to an issue in your marriage, not with the position. The position merely showed you a weak point in your relationship. That can be very uncomfortable. If there is anyone in the world you should be able to be exposed and vulnerable in front of, it should be your husband.
And as for feeling loved, well, that's a feeling, not reality. Feelings are helpful guides, but they cannot be taken as truth. Feelings aren't wrong, but our interpretation of them often is. Chances are your husband felt more loving for you being willing to be vulnerable, submissive, exposed and all the things you hated.
So, are your feelings normal? As I always say to this question – what do you mean by "normal". Are they typical? No. Most women don't have that strong of a negative reaction. Many others actually like all the parts you hated about it. Are they valid – sure! But, use them as a guide, not as absolute truth.
Like I said, I suspect there's a lot more going on here than simply not liking eye contact and being able to kiss. I think there's a fundamental issue of trust and being willing to be vulnerable with your spouse that's triggering these emotions.
So, yeah, you can feel how you feel, but I think choosing to simply shut everything down because you didn't like how it felt is dangerous. You have an opportunity here to learn something about your marriage. Don't run away from that.
Now, I'm not suggesting that you jump straight to having doggy-style sex again, far from it. I think you should spend some time thinking about what's going on with you and your marriage, and probably discuss that with your husband.
And yes, you absolutely should tell him, because if he doesn't know, then he's going to want to do it again most likely. But, if he knows how badly you hated it, he may never bring it up again. Likely what he loved was the novelty of it, and as I said before, your willingness to be vulnerable. So, I'd say work on trying to figure out why being vulnerable is such a bad thing for you. Then maybe find another way to be vulnerable and try something else new.
Question 6 – Nagging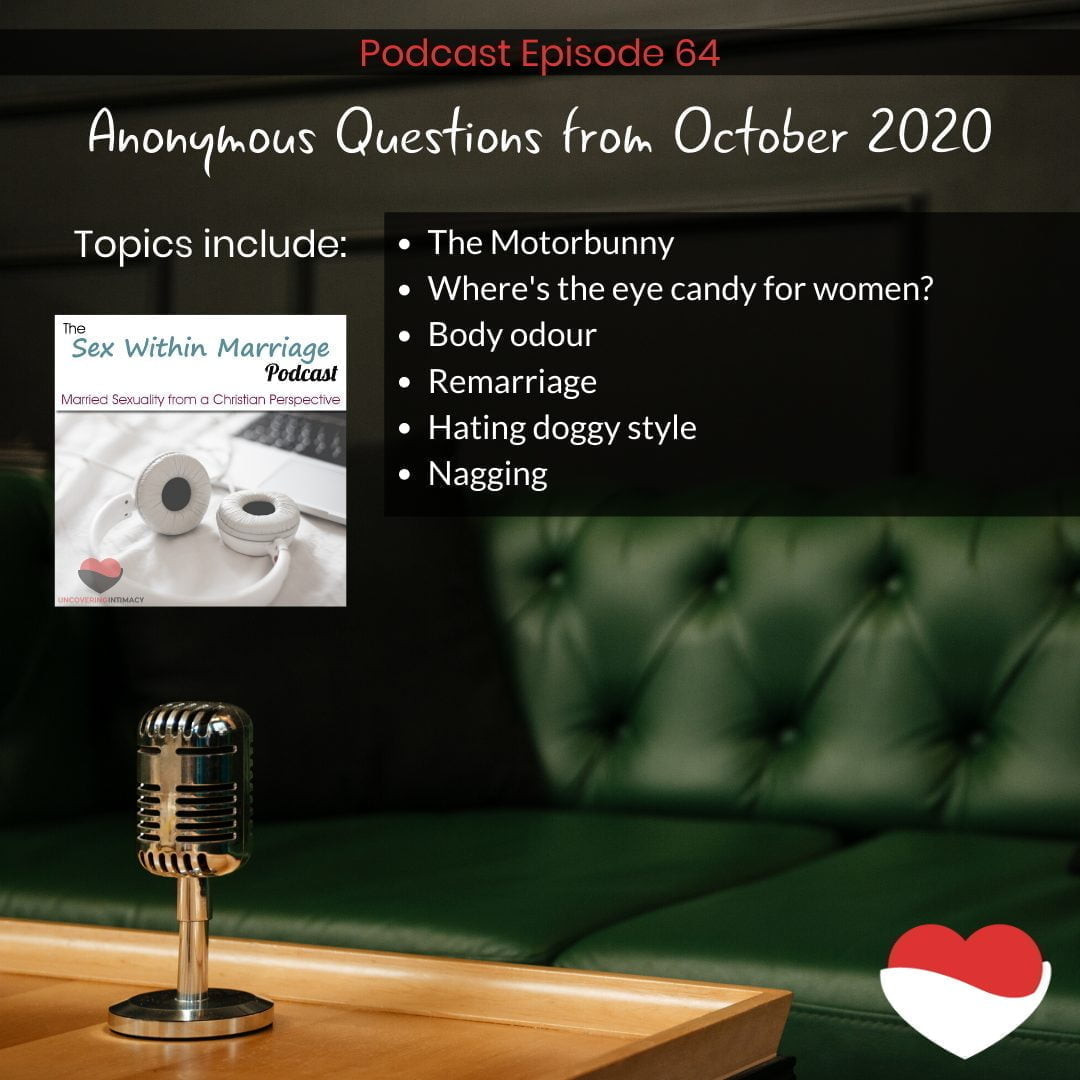 This isn't really about sex, but my wife is wearing me out and I am having daydreams of not being with her anymore. The constant nagging, stress and nitpicking has just worn me out to this point. I'm at the end of my rope I am tired and afraid to go home. When I bring it up she denies it all and turns it into my problem. Thanks.
Believe it or not, I answer non sexual questions about marriage all the time!
The standard answer is pretty straightforward – use "I statements" rather than "you statements". So, for example, you shouldn't say "You nag all the time", but rather something like "I feel like I'm being nagged all the time".
But, to be honest, that's not a huge improvement. It's much better to be able to point to specific undisputed behaviours, because they can't be argued with or denied. Then you use it in the formula of "when you do [behaviour], it makes me feel [feeling]". So, for example "When you ask me to take the trash out 3 times within a 5 minute span, it makes me feel like I'm being harassed". She cannot argue with how you feel, and if the behaviour (asking you to take the trash out 3 times in a 5 minute span) is reality, then it's hard to argue with that as well.
Now, layer in that the positive, negative, positive sandwich idea, which is to say something positive, then share the negative, then say something positive again.
Then you end up with something like "Honey, I love you, and I like for us to work on improving our communication. When you ask me to take the trash out 3 times within a 5 minute span, it makes me feel like I'm being harassed. I don't want to feel that way, and I don't think you want me to either. So, could we talk about how to change things so that doesn't happen again? I'd really like to be able to feel how much you love me when we talk."
Who is going to say "no, I'm not interested" to that? I mean, if they do, then you have some much bigger problems on your hands.
Of course, the response might be "well, how about you take out the trash the first time I ask?" which is a fair point.
Anyways, there's one way to bring it up that might net some better results. If that doesn't work, it might be a good idea to bring in some professional help.
---
That's it for today. If you have a question of your own, you can submit it anonymously on our Have A Question page, or you can email me at jay@uncoveringintimacy.com. Also, if you enjoy our podcast, please take a moment to rate us, and even leave a review by clicking here. Ratings and reviews are how people find us, so if you'd like someone else to experience the benefit you are from hearing our podcast, please help them by leaving a review.
Looking for more help?
---