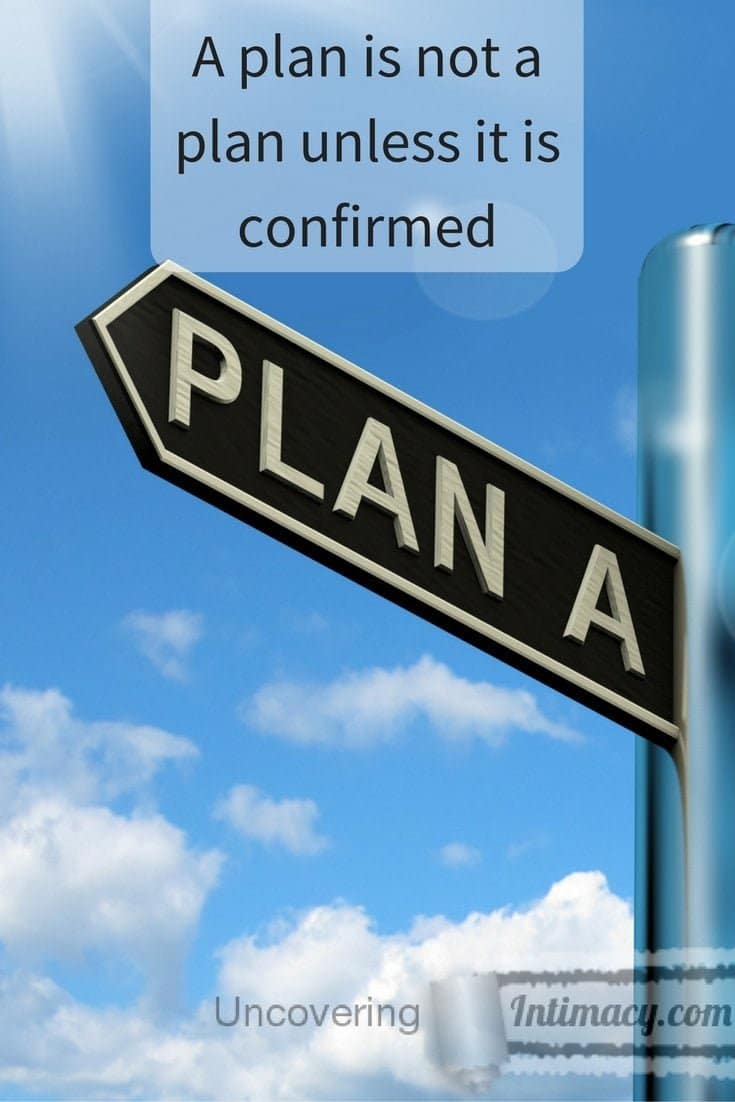 Ever had what you thought was the plan fall apart because your spouse didn't know that was the plan?  Or vice-versa?  I have!  And I don't think I'm alone, especially after reading this comment yesterday:
My wife and I are on different planets as far as Christmas is concerned.  She wants to go all out, I want to keep it simple.  I though our gifts were bought and wrapped.  My wife decided that she needed more gifts for the two youngest in our family.  So, she went to the toy section of this big store, I was getting pictures developed.  She thought she told me to meet in the store area, and I did not hear her.  I went to our pre-arranged meeting place and waited.  We were both waiting at opposite ends of the store.  She was getting angry and I was becoming impatient.  We both decided to find each at the same time.  We went down different isles and bypassed each other.  She even had me paged over the intercom (she does not use a cell phone).  Well the ride home was anything but pleasant.  With tears in her eyes she insisted that she had told me where to meet her.  All I can think about is how to "smooth her feathers" so we can relax in bed and.not miss our sex session. – Mike
As I said, I think this type of experience is quite common.  So, here are the three tips I wanted to share with everyone
1. 

Placing blame is unproductive

Ultimately, it doesn't matter whose fault it is.  This isn't husband against wife where we need to figure out which is the winner.  Husbands and wives are a team, so if they fail, they fail together.  If they win, they win together.  Placing blame will not help you solve the problem for the next time.

Instead, you should look at this as an opportunity.  You've just uncovered a potential source of friction in your marriage and you have a chance to fix it moving forward.  This is a good thing!  Because, chances are this has happened before, and it's happening again because you didn't take the opportunity.

So, we'll approach this as a "we have a problem that we are going to solve, together" stance.  So, what's the problem?  Each spouse had a different plan.  The solution: better communication.  Specifically:
2.

Make sure your spouse knows the plan

Telling them is not making sure they know.  A response of "uh huh",  a head nod or "Yes" is not confirmation.  I cannot count how many times my wife and I have made this mistake in the past.  It still happens occasionally, but far less frequently.  We've learned to get and give real confirmation.

The answer to "I'll meet you in the store area" is "I'll see you at the store area".  That may sound robotic, but it solves a lot of potential misunderstanding later on.  I'm okay with feeling a bit robotic and formulaic if it means my wife is not flustered and embarrassed to the point of tears.

If you both work to create the habit to do this, you'll find these silly misunderstandings happen far less often.  If you've ever seen a movie with a submarine in it, you see this at work and then doubled.  In order to execute a single manoeuvre, like "dive", here's what you get:

"Prepare to dive"
"Preparing to dive sir"
"5 degrees down bubble"
"5 degrees down bubble, aye sir"

I'm trying to go from memory of movies, so if I have any navy personnel as readers, feel free to correct me.  My point is, it takes four communications to ensure they are doing what they want to do.  I think your marriage is important enough to at least deserve two.
3.

 Sex is not more important than resolving the conflict
All I can think about is how to "smooth her feathers" so we can relax in bed and not miss our sex session.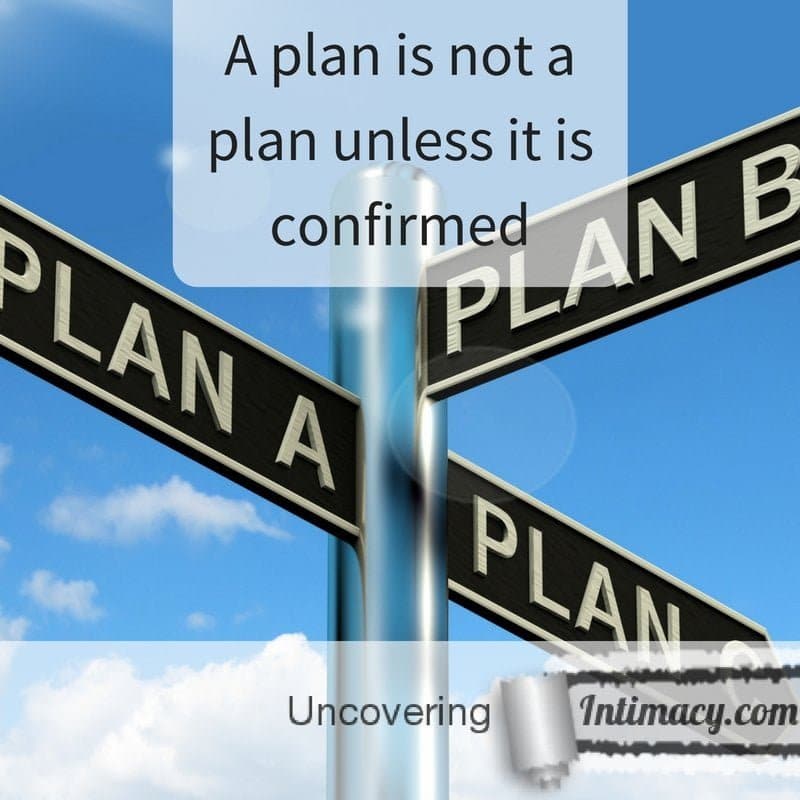 I'm sure Mike didn't mean for this to come out as it did, but I'm sure a lot of people have thought this same thing.  I know I have in the past! The problem is, it's backwards.  The way this is worded (which I doubt was his intention) places a higher priority on sex than on the relationship.  It makes the relationship an obstacle or a gatekeeper to sex, rather than the context in which sex happens.
Wanting to "smooth her feathers" sounds insincere, and she'll pick up on that if that's what you're thinking.  Instead, work to resolve the actual conflict, talk through it, find out what went wrong (not who went wrong), and make a plan to fix it so it doesn't happen again.  That is a real intimate exchange, of two people working together to overcome a fundamental obstacle in their marriage, rather than simply smoothing feathers to overcome a temporary obstacle to sex.
While it's important, that's more of an aside.  My main point for this post is: Don't assume your spouse heard you when you change a plan.  And don't assume you heard correctly when your spouse changes the plan.  Always confirm.  It's just good communication.
Looking for help?
---