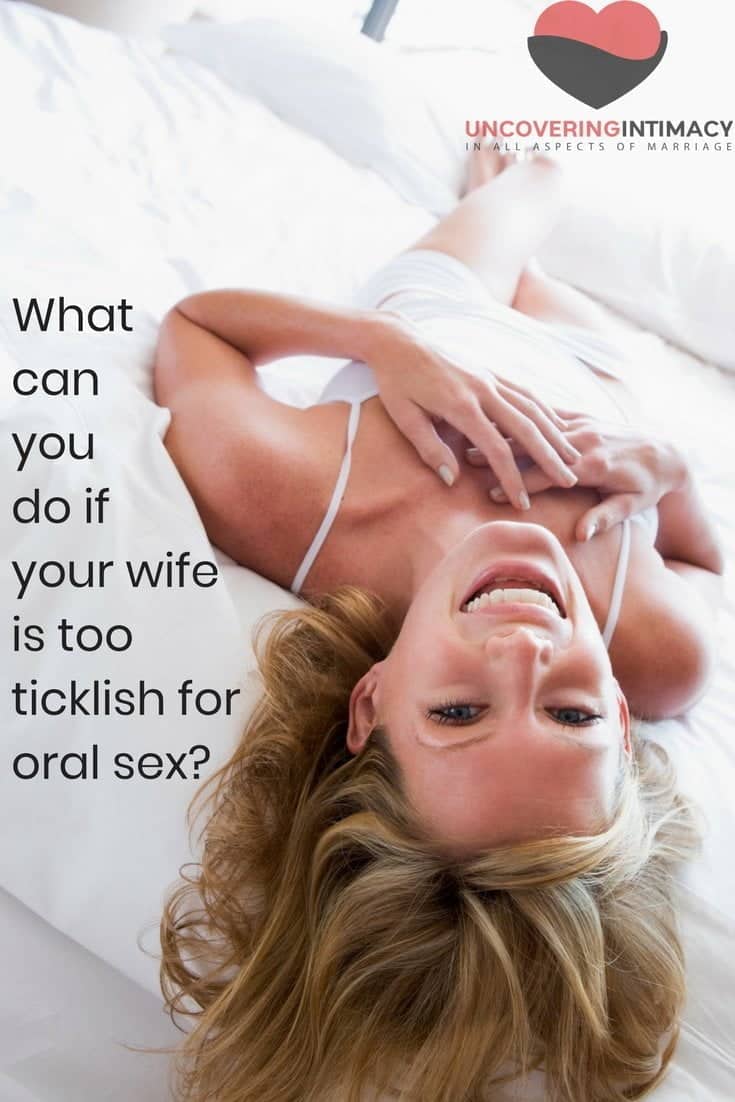 You know what I love about being a Christian marriage educator?  Helping people by answering questions they don't feel they can ask anywhere else.  Giving them a safe place to ask it and doing my best to make them feel like they're not weird for asking it, or having the issue in the first place.
Yesterday I turned my chat on for a bit, and within seconds, someone popped up to ask this:
Okay, so my wife is ticklish and begins to like oral sex, but becomes too ticklish. Do you have any guides on your site of what I can do?
I didn't have an answer off the top of my head, but said I'd try to write a post about it this week.  So, while I'm sitting on the train commuting to work, I thought I'd share some thoughts that might help.
1.

Being ticklish is partly psychological

Being ticklish is sort of weird.  There's a huge mental part of it.  It's hard to tickle yourself (I know, some people can) and it's hard to tickle someone who is angry or upset.

It can also be difficult to tickle someone who is aroused.  So, one option is to wait until your wife is more aroused before starting oral sex.  I know that sort of messed up the idea of oral being foreplay, but perhaps you can try something else first for a bit before you start oral.  Use a vibrator to warm her up, a blindfold to get her more excited, or even tie her hands, if she's up for that, or click here if you really want to try something new.  You can also try out our free Truth or Dare game, as many people report play it with their spouse gets them pretty worked up.

As well, it might be worth seeing if her holding your head helps with the ticklishness.  It's sort of using that "you can't tickle yourself" trick while still incorporating oral sex.

It could also be that she's nervous, as that can add to the ticklish response as well. She might be worried about how she looks "down there", or tastes, or smells, or anything else.  Make it clear that this is something you want to do for her and that you love it.  She may not believe you at first, but it might help.  Women tend to grow up with a lot of negative self-image, not only about their body in generally, but with the sexual parts in particular.  That can be quite the wall to get over.
2.

Tickling usually occurs with light, focused touch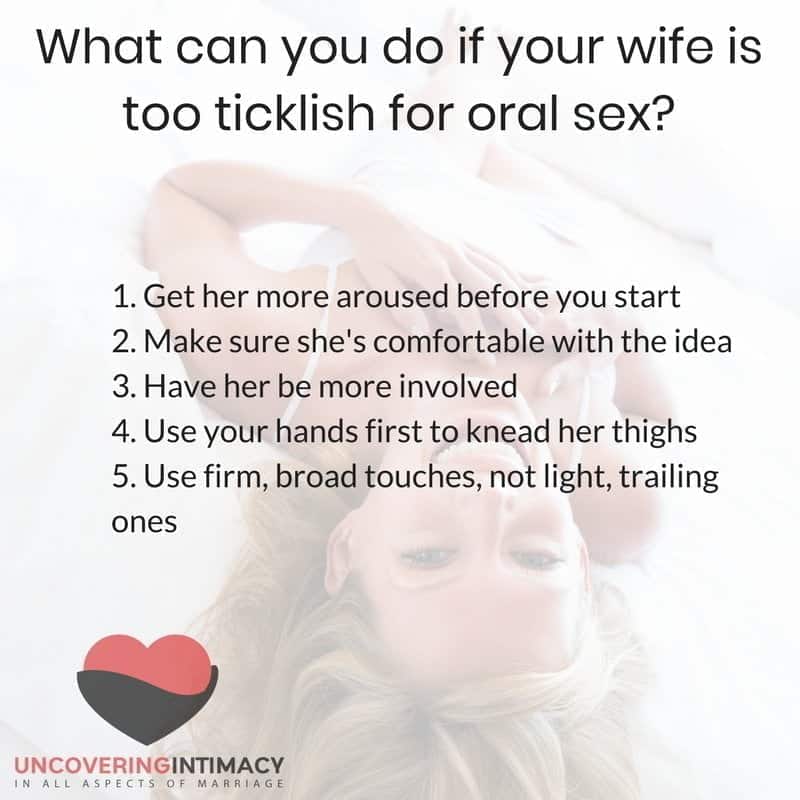 Tickling generally occurs, especially in situations like this, with light touches that are also focused to a small area.  People generally don't get tickled by you putting your entire hand on their leg.  It's usually trailing fingers or something like that.   Likewise, pressure plays a bit part in it.  A light touch usually causes more of a ticklish response than a firm grip.
So, when doing oral, start with just grabbing her thighs and kneading them a bit.  Not pinching or anything, but just a full hand with a decent amount of pressure, massaging up towards the vulva.  Just to help get used to the fact that you're touching her.
Then, don't use a flicking tongue or light, teasing kisses.  Instead use full mouthed kisses with a flat tongue, and start on the front of the thighs (generally a less ticklish area), and SLOWLY work towards the genitals, kneading with your hands before you kiss an area.  If she starts to squirm, go back to somewhere that isn't ticklish again.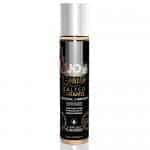 Also, it might help to use lube.  A dry drag of fingers, tongue or whatever is far more likely to cause a ticklish reaction than a wet one.  And while generally we have saliva in our mouths and women self-lubricate, it might not be enough.
I'd highly suggest the Gelato line of lubricants from System Jo.  They sent me a box of samples a while back (I really need to write a review of them), and they're amazing.  Flavours like Creme Brulee, Salted Caramel, Hazelnut Espresso and Tiramisu that taste like you're eating desert.
Point is, the additional wetness and gliding sensation might help to dispel the feeling of being tickled, plus the flavours can help her feel a bit more comfortable about how she tastes (if that's an issue for her mentally), though most men seem to indicate they love the taste of their spouse in our surveys.
Those are my suggestions for trying to get past the ticklish oral conundrum.  Readers, do you have any tips? Let us know in the comments.
Looking for help?
---