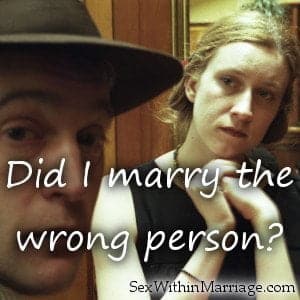 I get a lot of emails from people wondering if they married the wrong person.  Generally it's because they're unhappy in their marriage and feel like it would be better/easier with a different spouse.  Sometimes it's because they feel they got married for the wrong reasons and then later realized it.  For others, it's because they went too far when dating, and then felt railroaded into marriage.  Whatever the reason, there's still the same core question: Should I have married someone else?
How do we answer this as Christians?  What is the appropriate response?
There is no "right person" for you to marry
First, I think we need to dispel the myth that there is a "right person" for you.  I've written about it before, so I won't go too deep into this point.  In short, the Bible doesn't teach that each of us has one person selected to be with.  This is a hold over from Greek mythology which taught that humans used to be four armed, two headed, hermaphroditic beings which challenged the gods and so where split so they'd be constantly distracted by finding their soul mate and wouldn't have time to challenge the gods any longer.  Of course, this doesn't quite fit into Christian theology.
The right person is the one you choose and who chooses you back
In the end, the single defining factor that outweighs all others in determining a successful marriage, is whether or not you and your spouse are committed, not only to marriage, but to each other.  Just about everything else can be overlooked, mitigated, fixed or resolved.  If you both have the same view towards marriage, that it's forever, and so you better make it work, then you can figure out the rest.
The key is deciding to love, on focusing on the positives in your spouse, rather than thinking about other possibilities, or how much they need to change.  Now, unfortunately, doing this does not guarantee that your spouse will reciprocate, but I do think it makes it easier.  I mean, it's much easier to love someone who loves you first.  Even God uses that to His advantage (1 John 4:19).
Love needs to come first
Unfortunately what a lot of people do is focus on the things they like about themselves and on the things they think their spouse should change.  Instead of fostering committed love, this fosters contempt, which is, unsurprisingly, the emotion that is most likely to destroy a marriage.  Couples that have contempt in their marriage rarely recover.
Now, that's not to say there aren't things your spouse can change to be better, or even that you shouldn't challenge them on that.  However, too often, we challenge without a spirit of love.  We challenge with a spirit of selfishness.
You hypocrite, first take the plank out of your own eye, and then you will see clearly to remove the speck from your brother's eye. – Matthew 7:5
First, work on loving them, unconditionally.  Then, you will more clearly see your spouse and be able to challenge them in ways that are good for your marriage, for both of you, not just for yourself.  And yes, the end result may be the same.  You might find that this need of yours is actually a need for the marriage, but I can almost guarantee you that your approach will be different. Because you'll be challenging them out of love, not out of selfish ambition.
Do nothing out of selfish ambition or vain conceit. Rather, in humility value others above yourselves – Philippians 2:3
Following this formula, you will see your spouse is the right person, because you chose them.  God willing, they will humble themselves, as you do, and choose you back.
Looking for help?
---