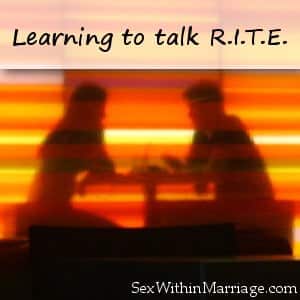 Last night I was at a church leadership meeting, and we were given an except from a book called Becoming a Mission-Driven Church, and it had an acronym it in: R.I.T.E. that nicely encapsulated a lot of the communication ideas I've written about on this blog.  So, I thought I'd share it with you, in the hopes it might help someone remember to communicate more effectively.
Learning to communicate effectively is extremely important to our lives.  In fact, the Bible talks a lot about communication, about controlling our tongues in particular.  For example:
Likewise, the tongue is a small part of the body, but it makes great boasts. Consider what a great forest is set on fire by a small spark. The tongue also is a fire, a world of evil among the parts of the body. It corrupts the whole body, sets the whole course of one's life on fire, and is itself set on fire by hell. – James 3:5-6
So, it is appropriate that each element of this acronym, R.I.T.E. is based one one or two passages.
Now, talking R.I.T.E. can be used in any communication, but for our purposes, I'm going to be talking about communicating between spouses.
R

estate what others are saying

This is the opposite of Self-Summarizing from our list of ineffective communication behaviours in How to resolve conflict more effectively.
To answer before listening—
    that is folly and shame. – Proverbs 18:13
When talking, instead of thinking about what you're going to say, listen to what your spouse is really saying.  Then, summarize it and repeat it back to them, to ensure you've understood.  I try to use this method frequently in my conversations with Christina.  She'll say something and I'll repeat back what I think I've heard.  Often I've misunderstood, so she has to say it another way, to make sure we're on the same page.  It's not wrong to misunderstand on the first attempt, but if you can avoid leaving the discussion while still misunderstanding, you've avoided a lot of potential conflict.  This goes for both facts and feelings.  Sometimes you can get the facts right, but misinterpret their emotions, and that can be just as dangerous
Use
I

-Statements

This is another classic communication skill.  Using I-statements instead of You-statements.
Let your conversation be always full of grace, seasoned with salt, so that you may know how to answer everyone. – Colossians 4:6
Stop judging by mere appearances, but instead judge correctly. – John 7:24
I statements tell people what you are thinking.  But you statements make assumptions about the other person.  They are designed to attack.  Often they go along with presumptive attributions.  For example, a you-statement would be:
You don't love me because you never want to have sex!
Whereas a more effective I-statement would be:
I feel unloved and uncared-for when you refuse to be physically intimate with me.
I statements have a much higher chance of being intimate, honest and authentic, whereas you-statements are often accusatory, inflammatory and degrading.
T

alk to the right person, at the right time
If your brother or sister sins, go and point out their fault, just between the two of you. If they listen to you, you have won them over. – Matthew 18:15
 Get rid of all bitterness, rage and anger, brawling and slander, along with every form of malice. Be kind and compassionate to one another, forgiving each other, just as in Christ God forgave you. – Ephesians 4:31-32
Too often communication happens between the wrong people, or at the wrong time.  Unfortunately, I grew up in a house where I often heard "Do you know what your father did?" My mother often brought her complaints about my father to her children.  It still happens in fact, though it's happening less, because I'm learning to tell her "Well, maybe you should talk to him about that."
Too often I heard couples voicing their complaints about their spouses with others.  Now, there are some, few, circumstances where that's appropriate.  When you're seeking honest help or advice, to a counsellor, therapist, coach, pastor, elder, or even a trusted friend.  But you better be doing it with humility, compassion and with the intent of learning how to help your spouse.  Not just complaining in order to make yourself feel better.
Other times conflicts that really do need to be addressed are addressed at the wrong time.  When you have friends or family over, or you're over at their place, for example, is not the time to address serious relationship issues, however, I have been in that situation on more than one occasion.  Thankfully we've learning not to do this in our marriage, so I've only been in the uncomfortable position of being the bystander in recent memory.
If something really needs to be talked about, schedule a time to discuss it.  Then you can both be clear headed and not have any interruptions.  If you feel that you need someone there to mediate, then ask them in an official capacity.  Don't rope them in just because they happen to be in the same room.
E

liminate negative talk
Do not let any unwholesome talk come out of your mouths, but only what is helpful for building others up according to their needs, that it may benefit those who listen. – Ephesians 4:29
Brothers and sisters, I do not consider myself yet to have taken hold of it. But one thing I do: Forgetting what is behind and straining toward what is ahead, I press on toward the goal to win the prize for which God has called me heavenward in Christ Jesus. – Philippians 3:13-14
Addressing conflict is good for marriage.  I believe it's how we grow.  In fact, I think if you have no conflict, then you're not growing, because it means you've stopped being honest and talking authentically.  But, while addressing conflict is good, complaining and griping and are not good, nor healthy.  Conflict is an opportunity to grow, but unfortunately it's also an opportunity for destruction.  Make sure you take every opportunity to grow instead of be torn apart.  Unfortunately, the only way to do that is to learn to address it in a healthy manner.  Ignored conflict will damage just as much as inappropriately addressed conflict.
So, there's a quick acronym to help you remember a lot of the tips and tricks about communication we're written about in the past.  I hope it helps.
Looking for help?
---