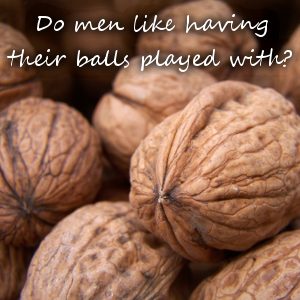 Sorry if the title's a bit crude.  Couldn't find anything that fit better.  I've received a bunch of questions over the years about testicles.  Here's the most recent one:
Do most men like having their balls played with? My husband and I are recently married and I would love to surprise him and incorporate this into our sex life, but I have heard that men's balls are pretty sensitivity so I am a little reluctant. What are your thoughts on this topic?
I have absolutely no statistics on this I'm afraid.  So, let's do a quick poll to find out:
web polls
Regardless of what the poll comes up with though, your husband is the one that matters. Ask him if he likes to have them played with, or if he'd be interested in exploring that.  Then explore, gently.
Because yes, they are sensitive to certain types of touch, and that's probably going to be different for every guy.  Set some time aside, and have yourselves a sex-lab session.  Just some time where the only expectation is exploration.  It it goes really badly, well, now you know.  If it goes well, then great!
If you want to surprise him though, just start out gently and go from there using the tips below.
General guidelines for ball play
Here are some general guidelines though.
Light touches are generally preferred.  Most men (though not all) don't like being "hit" there.  It feels a bit like having your guts ripped through your belly button.  But, soft, gentle strokes can feel great.
Light pressure can feel okay.  A lot of pressure starts to get into that gut ripping feeling.
Wet feels much better than dry.  Put some coconut oil on your fingers, or your own wetness, or use your tongue.  Whatever you prefer.
Hope that helps.
Looking for help?
---