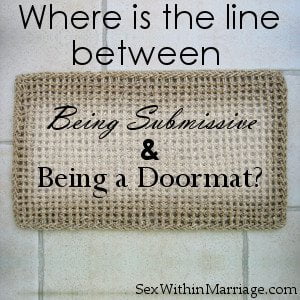 My wife and I talk about sex a fair bit.  Why?  Well, probably a few reasons:
I have a fascination with sexuality, particularly in marriage.  The hormones and neuro-chemicals involved, physiological and psychological responses, how it impacts marriage and the rest of life.  Why we do the things we do, why we don't do the things we don't.  Why are there stigmas about certain activities, why aren't there about others?  So many questions, and only a few places that are open to discussing them.
Sometimes I'm processing something I want to write here, but I need some more thought to flesh it out.  My wife offers many perspectives I cannot: a wife's perspective, a woman's perspective, a low-drive perspective, a wise perspective, and so on.
Sex has been an issue in our marriage, and we're still working on it.  While it's not perfect, it is pretty good, and we've come a long way, but there's always more improvement to be had.
The other night, we were talking, and this question came up: Where is the line between being submissive and being a doormat?  If the high-drive spouse desires sex, and the low-drive doesn't, should there be sex?  I've answered this question before, indirectly, but I think it needs to be framed a bit.  What about the next night? And the next? And the next? How many days in a row constitutes submission/self-less love, and where is point where it becomes being a sex-slave, a doormat, just an object to have sex with?
Biblical submission must be voluntary
I think the answer lies in attitude, as it does with most things, in who is the driving force behind the behavior.
For example, the oft quoted verses in regards to submission:
Wives, submit to your own husbands, as to the Lord. For the husband is the head of the wife even as Christ is the head of the church, his body, and is himself its Savior. Now as the church submits to Christ, so also wives should submit in everything to their husbands. – Ephesians 5:22-24
Now, this is a call for wives to submit to the authority God gave husbands over them, and the household.  In fact, in Hebrew, the word father literally means "tent pole" or "strength of the house".  He is the one that holds up the household.  There are links to that of power, authority, strength, protection over the house (tent), household, family.  Now, I believe God gave this authority to husbands over their wives, but I do not believe He gave the authority to enforce it against their will.  Otherwise the above verse would read more like this:
Husbands, make sure your wives submit… Now as Christ forces the church to submit, so also husbands should force their wives to submit in everything.
Now, obviously that is ridiculous.  Christ does not force us to submit, if He did, the entire concept of freewill would fall apart.  This is made even clearer in first Peter:
Likewise, wives, be subject to your own husbands, so that even if some do not obey the word, they may be won without a word by the conduct of their wives, when they see your respectful and pure conduct.  – 1 Peter 3:1-2
Now, how would these husbands be won if they were forcing their wives to submit.  It has to be voluntary, or this verse has no meaning.  I think this also points to one of the reasons that God set up this hierarchy of submission/headship within the family.  It reflects our relationship with God.  By wives submitting, we learn what it is like to submit to God (as written in Peter), likewise, by being responsible as the head of the family, we glimpse a little of what it is like to be in Christ's shoes and we can learn from that as well.  God knew what he was doing when he set these things up.
Lastly, and I'll admit, these two aren't about marriage specifically:
So I exhort the elders among you, as a fellow elder and a witness of the sufferings of Christ, as well as a partaker in the glory that is going to be revealed: shepherd the flock of God that is among you, exercising oversight, not under compulsion, but willingly, as God would have you; not for shameful gain, but eagerly; not domineering over those in your charge, but being examples to the flock. And when the chief Shepherd appears, you will receive the unfading crown of glory. Likewise, you who are younger, be subject to the elders. Clothe yourselves, all of you, with humility toward one another, for "God opposes the proud but gives grace to the humble." – 1 Peter 5:1-5
Obviously, this is not talking about marriage, but it is talking about submission to those in authority over you, I want to pay particular attention to that phrase of "not domineering over those in your charge", in case there is any doubt that Biblical submission must be voluntary.
Obey your leaders and submit to them, for they are keeping watch over your souls, as those who will have to give an account. Let them do this with joy and not with groaning, for that would be of no advantage to you. – Hebrews 13:17
And yet again, Paul relates how fighting submission to authority will gain you nothing.  In fact, the opposite, you will lose out on something.  Here's the thing that people have trouble believing:  Every woman I have talked to who has submitted voluntarily to her husband has seen improvements in their marriage, in their life together, and in her own personal life separately.    They are happier, they are closer to their husband, their children, and to God.
When biblical submission isn't followed
So, what happens when a wife refuses to submit, or submits begrudgingly?
It is better to live in a corner of the housetop than in a house shared with a quarrelsome wife. – Proverbs 21:9
A continual dripping on a rainy day and a quarrelsome wife are alike – Proverbs 27:15
It is better to live in a desert land than with a quarrelsome and fretful woman. – Proverbs 21:19
An excellent wife is the crown of her husband, but she who brings shame is like rottenness in his bones. – Proverbs 12:4
And then there are the wives who go beyond not submitting and try to dominate their husbands or go behind their backs, which always ends in disaster:
Adam and Eve  – 1 Timothy 2:13-14 – Eve was deceived, but Adam knew better and followed his wife.
Abraham, Sarah, Hagar – Genesis 16 – Sarah didn't believe God's promise, so she told Abraham to take Hagar to have children with.  Abraham obeyed.
Solomon and his wives – 1 Kings 11 – Solomon's wives led him astray.
Samson and Delilah (I know, not married, still good example) – Judges 16 – Samson caves and tells her his secret, and she has his eyed gouged out and him enslaved
That's just off the top of my head, I'd be willing to bet there are twice that many at least.  Likewise, I've seen it in marriages around me, and in the beginning of my own marriage.  I have seen marriage which are doing well (though with serious struggles) with no one in charge, an egalitarian marriage, but most marriages I see, where the wife is in charge, or she grudgingly submits, she disrespects her husband whenever he is mentioned, damaging the relationship daily.
So, I think the line is all in the attitude, the willingness to submit.  This does not mean you have to be silent, this does not mean you are not respected, loved, cherished.  I could not do what I do, personally or professionally to anywhere near the capacity I do now without her there helping, advising and supporting me.  But, likewise, I could not be as effective as I am if I needed to constantly fight her on every decision.  We discuss things, we bring opinions, advice, evidence, and then I make a decision.  I don't do it in a vacuum, but it is my responsibility, and frankly, my wife likes it that way.
Your turn
So, those are my thoughts.  What are yours?
Looking for help?
---