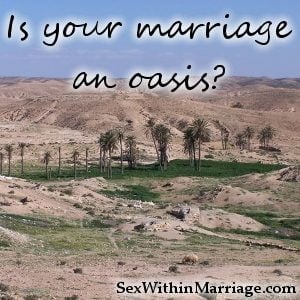 This post is mostly me thinking aloud.  I'm exploring a thought, something I've noticed in my own marriage and others.  Many marriage experts, counselors, therapists, etc. will tell you that people need time to decompress between work and home life.  They need time to shift gears, to relax.  I myself have said this in the past, have defended it, even experienced it.  But, recently I've been rethinking that concept.
I've realized, over the years, as we addressed issues in our marriage, that I no longer need to decompress between work and home.  I'm able to walk in the door and jump right in.  But, I've also realized that my attitude towards home has shifted dramatically as well.
When our marriage was strained, home was a place of stress.  So, I'd come from work, a place of stress, to home another place of stress, different stresses.  So, I'd need time to decompress, time to relax so I could tackle another stressor.
But now, home is an oasis from the world.  It's not a stress, it's relaxing, even when it's hectic.  It's like slipping into a hot tub, or lying in a hammock.  No one ever says "hold on, I need to decompress before getting into that hot tub", or "wait, I need a break before lying in that hammock".  Why?  Because it's relaxing, it's where you want to be.  Being there relieves stress, not adds to it.  You don't need to bolster your defenses to slip into something relaxing.
My family, especially my wife, has become that relaxing break, that oasis in my life, where I don't need time to prepare to be with her.  I need time with her to prepare for tackling the rest of the world.  Sometimes my kids are a bit of a stressor, but that's easily overshadowed (in a good way) by the presence of my wife.
So, this has lead me to think, is needing time to decompress between work and home a sign of a strained marriage?  Is something going on that's causing you to not regard home as an oasis in your life?
What do you think?  I'd love to hear your thoughts in the comments below.
Looking for help?
---