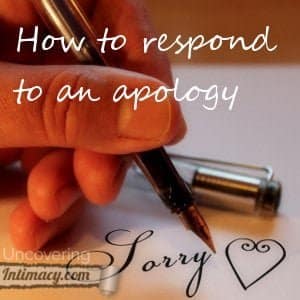 I wrote a few posts about apologizing lately and realized it didn't yet write one about how to respond to an apology.  So, how do you answer someone who said they're sorry?
Apologies make us feel uncomfortable
Accepting an apology is an uncomfortable thing.  Most of us don't really like doing it.  I think it's because a true apology requires humility and displays of humility make us uncomfortable.  Why?  Because it convicts us about our own pride.
If we're not prideful, if we're humble Christians, then an apology should be a joyous occasion.  A relationship is being repaired.  Our brother or sister in Christ has decided to turn away from their pride and turn towards God.
This is a big deal!
Instead, we tend to want to avoid the awkward conversation.  We want to turn away from their show of humility because we often don't have the same humility.  It makes us feel convicted, and that's never a comfortable feeling.
It's not so bad when a child apologizes to us, because, well, we feel like they should be beneath us.  I know, that sounds horrible, but it's true.  We accept apologies from our children with grace and in the proper manner.
With adults, it's a different story.  Especially if it's a spouse.  Having them place themselves below us in humility is awkward, and so we don't respond with grace, we just try to get it over with.
The wrong way to accept an apology
As a result, when someone apologizes to us, too often we say something like
It's okay.
or
Forget about it.
or
Don't worry about it.
Usually, we're just trying to get past the awkwardness of the situation so we can go back to "normal".
However, what ends up happening is that we fail to acknowledge the big step they took in coming and asking for forgiveness.  Even if they just say they're sorry, that takes humility.
It rejects the vulnerability they are showing and thus rejects the deepness of the relationship.  Ultimately, it's a rejection of them because it's a rejection of intimacy.
In effect, you're saying "I'd rather be comfortable than acknowledge what's happening here."
How we should respond to an apology
I forgive you.
That's the important part.  You can add a lot of other stuff.  You can say you love them, or you can apologize too if it's appropriate.  The real important part is the acknowledgement that they want to repair the relationship.
That unconditional forgiveness is vital.
It tells them that you are willing to move past the break as well.  Not bury it, or ignore it, but recognize what happened and decide to move on despite it.
It's these decisions that keep a relationship, especially a marriage, alive.  When you can no longer accept an apology then the marriage has died.  Whether it ends in divorce, or continues like a zombie: having the appearance of life, but not really living.  A marriage cannot survive a lack of regular reconciliation.
So, when your spouse apologizes to you, recognize how big a deal this is. Don't just shove it aside like it's nothing with a "Don't worry about it." or "It was nothing."
It's not nothing!  It's intimacy that you are dismissing with those statements.
Accept the apology. Offer forgiveness.  It might be a bad idea to even thank them for repairing the relationship.  Yes, thank them for apologizing.  How's that for humility?
Looking for help?
---