OK, this is largely a rant, so hang on.
We're currently enjoying our fourth newborn. All our children have been breastfed, and this one is no different. Let me start by saying that I 100% agree with breastfeeding children. I think it's the healthiest thing for them and I would never suggest anything else except in extreme cases. And nothing that follows changes that belief one iota.
That said, here's what I hate about it (in no particular order):
I don't get to play with them anymore
My wife's breasts used to be mine. They were for me alone. It was my right to kiss them, lick them, suck them, bite them, tweak them, rub them, hold them, whatever. So long as it gave my wife pleasure, they were mine to enjoy. Sometimes even if it did nothing for her, they were still mine to enjoy.
The wife's body does not belong to her alone but also to her husband. In the same way, the husband's body does not belong to him alone but also to his wife.

1 Corinthians 7:4
Now I never get to touch them.
I can't kiss, suck, lick them because she'll let down and be leaking milk all over the place.
I can't bite, pinch, rub, tweak, etc. them because they're too sensitive.
I can't hold them because she's all "touched out".
I can't even hug her tightly because they're swollen and it's uncomfortable.
In short, I've lost all rights and privileges to them.
My wife is tired all the time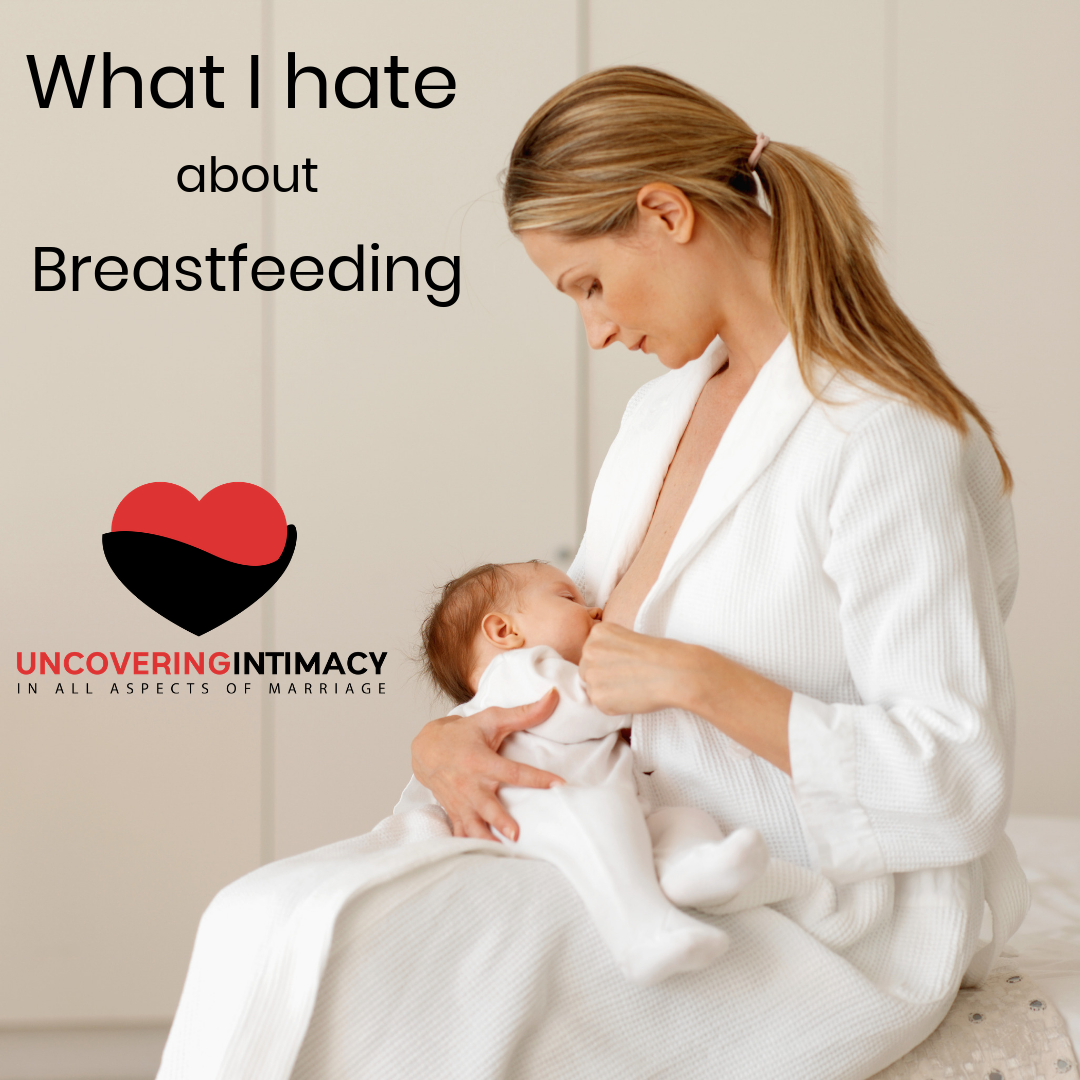 Since the baby is up at all hours of the night (actually, she's pretty good, only 2 or 3 times a night), my wife doesn't get near enough sleep. As such, she's tired, and a little moody, and understandably so. But it's still frustrating for a couple of reasons.
First off, I can't do anything about it. Because she's breastfeeding, it's not like I can take a shift or a night, or trade spots.
Secondly, I have to deal with a lot of the consequences. I'm dealing with the kids more, I'm cleaning up around the house more (and I'm not good at it), I'm taking on a lot more duties that are typically considered the role of the stay at home mom (SAHM), and I'm dealing with an exhausted wife.
I see more of her breasts than ever and can't do anything about it
Since she's nursing, my wife is constantly wearing shirts that have easy access, are low-cut, or at very loose. Add that to the fact that she's got at least one breast out every hour or two, and you get a very frustrated husband with no outlet.
Our sex life has tanked
Add up all these things, and some more just due to birthing and post-pregnancy hormone leveling, and we're barely having sex. Let me revise that, we're not having sex at all. Twice in the last 6 weeks, we've had a mutual masturbation session. So, basically I'm being teased to death with little or no release. And if I say anything about it, to my wife, or anyone else, then I'm an insensitive jerk whose wife just had a baby and I should be more loving and stop complaining, after all, I don't know what's it's like to be pregnant or give birth to a baby.
Well … that's true, but then … she doesn't know what it's like to have your spouse replaced you with a baby.
P.S. I am actually very pro-breastfeeding. I think it's the best option for babies. I'm just sad it comes with a lot of sacrifices and writing this helps me process them and feel a bit better.
There is a time for every season, and this too shall pass.
37 Questions for spouses to ask each other about sex
Subscribe to get the 2 page PDF full of questions to help you and your spouse start to talk about your sex life.