Podcast: Play in new window | Download | Embed
Subscribe to the Podcast: Apple Podcasts | Google Podcasts | Spotify | Amazon Music | Android | iHeartRadio | Stitcher | Podchaser | Email | TuneIn | Deezer | RSS
My wife and I get to try a lot of sex toys out. Some we buy, some get given to us, and a few years ago I won about $1,000 worth of toys in a giveaway. So, we have quite a few. I don't know exactly how many, but enough to fill an overnight bag and another box. We've also thrown some out over the years for various reasons. The point is – we get to try a lot of things, some good, some not-so-good. Today I want to tell you about one of our favourites – the Limon by Minna.
I've been meaning to write a review for the Limon for a long time, but just hadn't gotten around to it. Any spare time was used answering questions from our Have A Question page, and, frankly, I felt those were more important than telling you about a toy. Also, I had some issues with ours that I'm going to explain later on because I think it's important and actually makes it an even better buy. I know, that seems counterintuitive, but I'll explain why later.
We actually have 2 favourite toys from Minna – the other is the Ola, which I've reviewed previously. Sadly, they no longer make it. So, last week I reached out to Minna to ask when they're coming out with an Ola 2 – because, well, we've had ours for a while and while it's still going strong, eventually it will break I assume. Also, I can't wait to see what they come up with next.
Sadly, the current state of the world is slowing down production, but they offered me a deal on the Limon for my readers which is so good, I wanted to pass it on, which is why I'm taking the time to review the Limon today. More on that in a bit as well.
What is the Limon?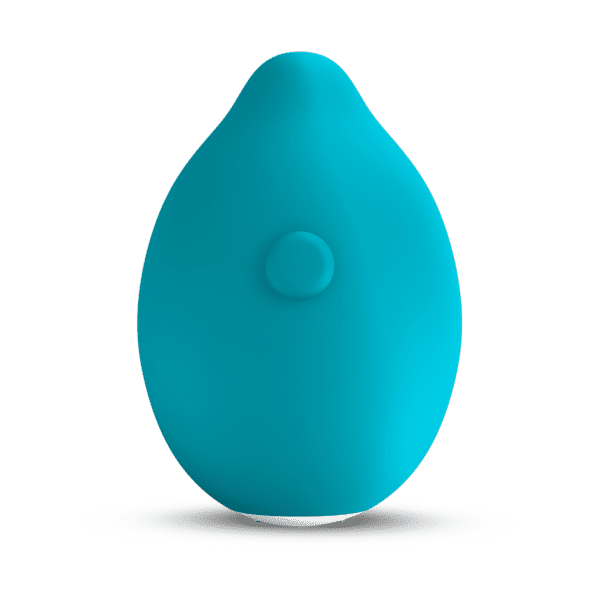 The Limon is a bullet-style vibrator. I know, I know, "(sarcastic) woohoo, another bullet vibe". That's sort of what I thought too. I mean, it's got this weird egg shape, only one button, no Bluetooth capabilities – how different could it be.
What makes the Limon different
Well, what are all the things you don't like about bullet vibrators?
Some you can't get wet – or else they short out and stop working, which is problematic during sex. The Limon is waterproof.
Some are loud, sounding somewhere between a loud mosquito and an RC helicopter – The Limon is whisper-quiet, so quiet in fact that I occasionally ask if it died when we're using it because I can't hear it anymore.
Swapping out batteries is hard to do when your hands are covered in lube – The Limon is rechargeable, so you can keep it on its charging stand until you need it.
Most bullet vibes have buzzy vibrations – a lot of vibrators do in fact, which sometimes feels good, but sometimes feels annoying, especially after a first orgasm. The Limon has a deep rumbly vibration.
Some vibrators are just on or off – like the Ola, the Limon has a novel squeeze mechanism. The harder you squeeze, the more intense the vibrations. As well, the Limon is programmable with a single button. Press the button, squeeze a pattern, hit the button again, and it will happily repeat the pattern.
Oh, and the thing I hate the most about the Ola, their other toy, is the charger – they fixed that with the Limon. This Limon is easy to charge, you just put it on and it starts charging. It's easily the least finicky plugless charger I've seen.
Why I like the company
As mentioned, I had some issues with my Limon at one point. It stopped working. So, I reached out to Minna and told them what happened. They sent me a new one. Worked great out of the box, put it on the charger (the new one it came with) and it stopped working again. So, I went back to Minna again saying "I don't know what's happening, did I just get 2 duds?" and they sent me another one. And during the course of working with one of their engineers to sort out the problem, I killed another one.
Finally, I figured out the issue. The charger is USB and I keep a multi-port USB charger in my bedroom to charge all the things (phone, toys, oil diffuser, IR receiver) and one of the ports was acting up, sending a much higher voltage than it should have been. In short, it burnt out the electronics.
Now, I fully expected to have to buy one myself because, well, it was my hardware that killed it. Nope, they sent me another one without me even asking. That's some incredible customer service.
As well, every time I talk to them, they're happy, pleasant and genuinely seem to enjoy their jobs. It's nice to work with people who like their work.
Favourite ways to use the Limon
So, I've mentioned this in the past, but I thought it might be useful to have here as well. Now, being a somewhat larger bullet vibe, it doesn't really work too well to use it during sex in either missionary or woman-on-top positions. It just gets in the way. That said, it's really useful for some other activities.
During massages
I spend a lot of time watching TV in the evening while massaging my wife, which I absolutely love to do. It's not always foreplay, but when it is, one way to ramp up the foreplay aspect to it is to turn the Limon on, put it under her so it's just providing a bit of simulation while I start to give her a full-body massage.
By the time I'm done working from her head, hands and feet slowly towards more sensitive areas, she's pretty warmed up.
While reading a book together
Friday nights, we generally spend reading a book together. Often what happens is that I'll sit behind her on the bed and massage her shoulders, neck and upper back while she reads out loud. This helps her stay focused on the book (otherwise she gets distracted), and, well, I get to touch her. The books we read are generally focused on marital intimacy – the last one we finished was ADHD After Dark, which I highly recommend if one or both of you experience ADHD.
As with the massaging above, strategically placing the Limon between her legs while reading a book about sex, tends to move things along pretty well, even though the books we read are informative rather than erotic. By the time we're done a chapter, it's time to put the book down.
So, we don't tend to go through books very quickly, but we always look forward to Friday nights.
After a first orgasm
As mentioned in the previous post, if you are a wife trying to have a second orgasm and don't achieve them easily, especially if you find you're too sensitive after your first orgasm, the Limon is a great way to start back up again.
Because the squeeze mechanism of the Limon can start the toy off with extremely low intensity and because it's more a rumbly feeling than a buzzy feeling, it's really the only toy we can use soon after the first orgasm for her, and as she gets more and more aroused again, you just squeeze the toy harder and harder slowly until it's back up to full power and you're ready to move on to other activities again, or just keep going with what you're doing.
And there are some others, but I'm not sure how to write them without going over the line between informative and erotic, so I think I'll stop there and let you figure out the ways that might work for you and your spouse.
If you want to get a Limon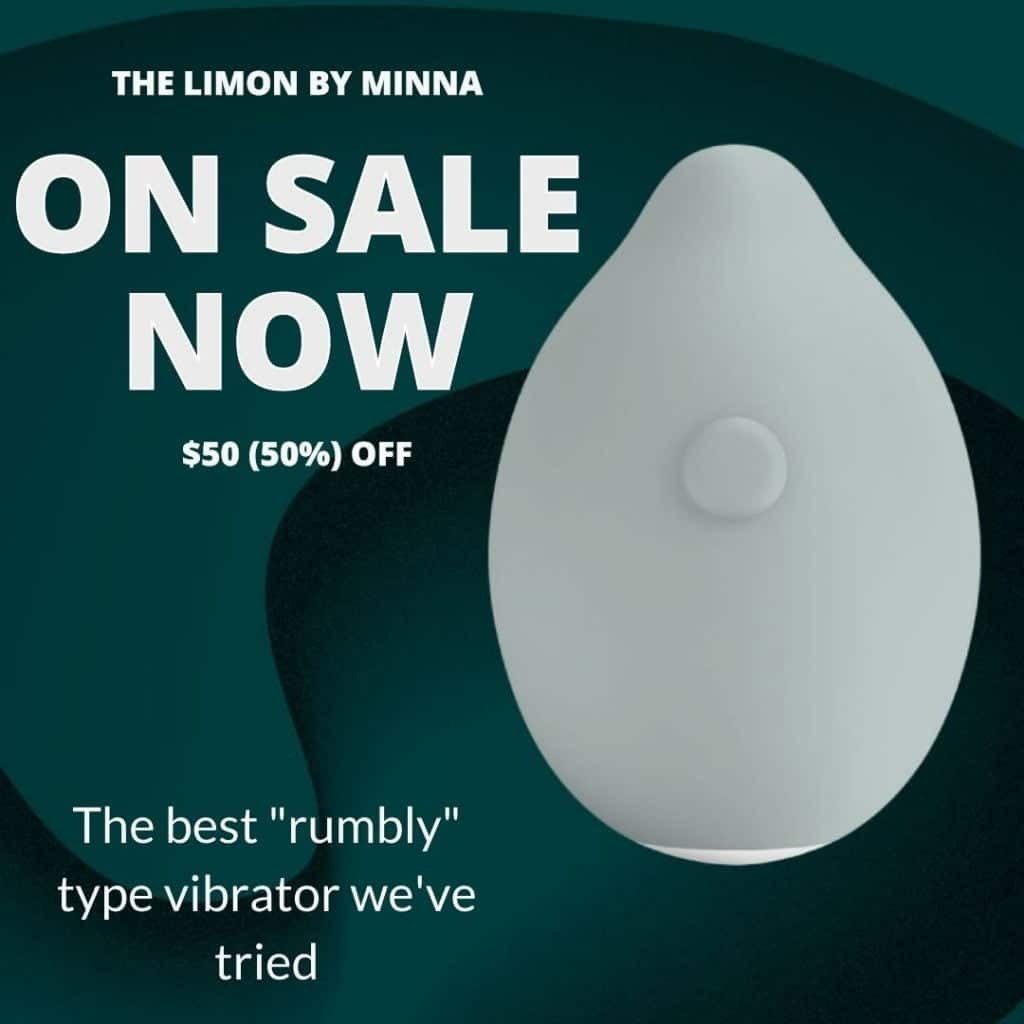 As you can see, the Limon isn't a cheap bullet vibe – it's a premium toy, and it comes with a premium price tag, which honestly it deserves. I would imagine the R&D put into it was fairly hefty – not to mention the support they offer their customers.
But to help with that, as mentioned, Minna offered my readers and listeners a deal. For some reason, they still like me despite me breaking a bunch of Limons … They said they'd give $50 off the Limon for Black Friday, which coincidentally amounts to about a 50% discount. So, if you want to get a really good bullet vibe that I would have no trouble paying $99 for (the retail price) for only $49 – now is a great time to grab it.
To get your own just click here and hit the "Buy $99" button and use the coupon code UIBLACKFRIDAY to get the discount.
One word of warning – while I love their products and support, their blog deviates quite a bit from my beliefs, and I wouldn't consider it a safe environment for those who struggle with temptation. Stick to the store if that's a concern.
Looking for help?
---