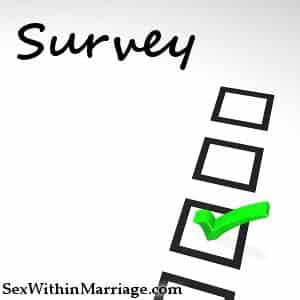 We've been talking a bit about pornography, movies with erotic content and such in them lately, and this has spawned a lot of people to ask questions about whether or not it's okay to take home videos and/or pictures of your spouse for your enjoyment and others asking how common this is.  So, I thought I'd put out a survey, since we haven't had one in a bit and ask the questions we'd need to find out.
Whether you have done this, haven't, want to or don't, we need your data to answer these questions.  So, be brave, answer truthfully so that you can lend your help to this cause.
Just a heads up, the questions seem repetitious, because they are a bit, but the subject changes.  You're not going in circles, I promise.
[gform form="https://docs.google.com/forms/d/1O2f5CG-wIFxTVeEIuC1ZTrmTkj8HNhDIQgxS8DE6d8s/viewform"]
Looking for help?
---