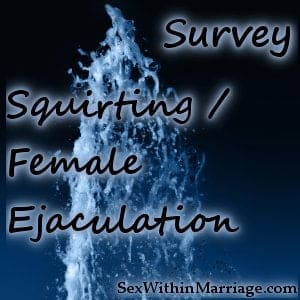 In our latest survey (on anal sex), I asked if there were any topics people would like to see a survey on.  I got quite a few requests on the topic of female ejaculation (aka 'squirting').  Seriously … like a half a dozen.  And if a half a dozen people curious enough to ask, I'm willing to bet there are more.  So, I devised a survey.  I've tried to incorporate the lessons of the last surveys to the best of my ability, but please continue to give feedback wherever you think there can be improvement, and, as always, we value your data in helping us help couples around the world by fostering discussions about healthy sexuality within marriage.
So, without further ado, the survey is below.  As usual, we'll leave it up for about a week, then post the results and our analysis and comments. Fill out the survey
37 Questions for spouses to ask each other about sex
Subscribe to get the 2 page PDF full of questions to help you and your spouse start to talk about your sex life.