We recently welcomed our fourth child into our family and I thought I'd write a bit to reflect what's going on. Specifically how pregnancy and after the birth affect sex from the male perspective.
Now, I know this may upset some of the women who read this, because pregnancy is typically all about the women. I can't speak for that side, so I'm going to post on behalf of the men, myself in particular. I want to let people know about the struggles involved for the husband. Why? Because often we get overlooked during this time, and frankly, it's dangerous to do so.
Note: I'm basing this post on my experiences, so there will be exceptions. But I think what's happening in our household is fairly common.
Pregnancy and sex
So, if you are planning to get pregnant, things start of great! Your wife wants sex all the time, or at least while she's fertile. She seems always in the mood and ready at the drop of a hat. Now, here's where the first conflict emerges:
You want to get pregnant, because you want to meet your kids
You don't want to get pregnant, because you never want the sex-fest to end
In my case, we seem to be very fertile. Yay for kids. Boo for sex. I think with one of them, we tried for 2 fertile periods. The others, one. Not great if you're in a sexless marriage at the time. You really feel like all you're wanted for is your sperm. As if sex with you is only a means to an end.
Assuming everything goes well, congratulations, you're pregnant.  What does this mean?  Well, it means a few things.  Your spouse may experience some, or all of:
Morning sickness, which is deceivingly named because it's not necessarily just in the morning. Getting in the mood while nauseous is difficult at best. Impossible at worst.
Crazy hormone shifts = mood swings. Think PMS, but for 9 months, off and on. Getting her in the mood with this is like running through a minefield. Sure, you may succeed. But you might die.
Her body is changing drastically…as in getting bigger. Your wife will not like this. She will feel insecure about her body. This means she doesn't want you to see or touch it. Getting her in the mood without touching her is difficult. Getting her in the mood without her realizing you'll want to touch her at some point is impossible. As a result, you're likely to have sex only in the dark because she doesn't want you to see her.
Her body is changing shape. You may not be able to use your favorite positions, especially later on. That baby takes up a lot of room when your trying to be close.
Now, some women say that pregnancy makes them horny.  I have never experienced this, nor met someone who admitted to having experienced this.  So I'm starting to believe it's a myth to give us men false hope.  I prefer to know the truth so I can brace for reality.  (I have now met women who have experienced this). Don't assume your wife will suddenly be a sex-fiend while pregnant.  Your chances aren't good, and it will just disappoint you.
Birth and sex
So, if everything goes well, after pregnancy, you have a birth. I highly suggesting being there. I suggest you catch the baby, and cut the cord. Take tons of pictures. Do anything to be involved, because frankly, it's about the only involvement you're going to get for a while. More on that in a second. One more note about birth: If you are squeamish, this might mess you up for a bit. Some of your favorite parts of your wife aren't going to look like you remembered. It's OK, they go back. Don't let it freak you out. I'm telling this, because you'll be too embarrassed to ask.
Back to your involvement. Assuming you have family and friends, they are going to be around all the time for the next week. But they won't be interested in you. Your wife and the baby will get all the attention. Plus, your wife is naturally overdosed on oxytocin, a hormone that chemically bonds her, emotionally to the new baby. So she's absolutely focused on your new addition. That's why she can sit and just stare at the baby for minutes on end. Men don't get that benefit. For a lot of men, babies are sort of boring. It's not until they get to about 2 years old that they become fun, because then they can start to play and connect.
So, let's recap:
You started with tons of sex (unless you're ultra-fertile)
Dwindling sex during pregnancy (if at all)
Not only no sex after birth, but no attention at all
At this point, husbands are emotional starved, our love-tank is empty. Being men, we never learned to cope with this. In fact, most of us don't even know why we're miserable. We think it's just because we're not having sex, but that's just the most obvious metric. There is a cognitive dissonance (conflict) in our brain. Our mind is telling us "Remember, she loves you". But our emotions are telling us "She's ignoring you, she's pushing you away, she doesn't want you". Go with your mind on this one, it's better at thinking long-term.
Most men reconnect emotionally with our spouses through sex. We've had little sex (read: emotional connection) for the last 9 months. Now we're not only getting no sex (emotional connection), but no attention. We feel disconnected from our wives. Because we're men, we grow up believing we're not allowed to have emotions. And so, we lack the emotional tools that women are taught. As a result, we don't even know how to name what we're feeling. Coping with it, or addressing it is just impossible for most of us.
And, here's the ugly part. If you manage to realize what's going on. If you notice that you're feeling emotionally disconnected. If you recognize you need time and attention from your wife. You still won't ask for it. Why? Because she has enough to worry about with the new baby. I don't mean this sarcastically. It's a big shift for her too, there's a lot going on. But I'm not writing about that, enough other people will.
What I do think is that any time you put your children ahead of your spouse, your marriage will suffer. Granted, occasionally that needs to be done. I think having a baby is one of the best reasons for it. I just think that we often fail to remember/notice that there is suffering going on that isn't as noticeable as lack of sleep or lack of time. It's a lack of intimacy, and I don't just mean sex.
Most of this is just a rant, because, well, it's been just over a week since we had a baby, so you know what stage I'm at. I'm writing this mostly to help me process what's going on, in the hopes that I won't be so frustrated. So, here's my advice.
Advice for the men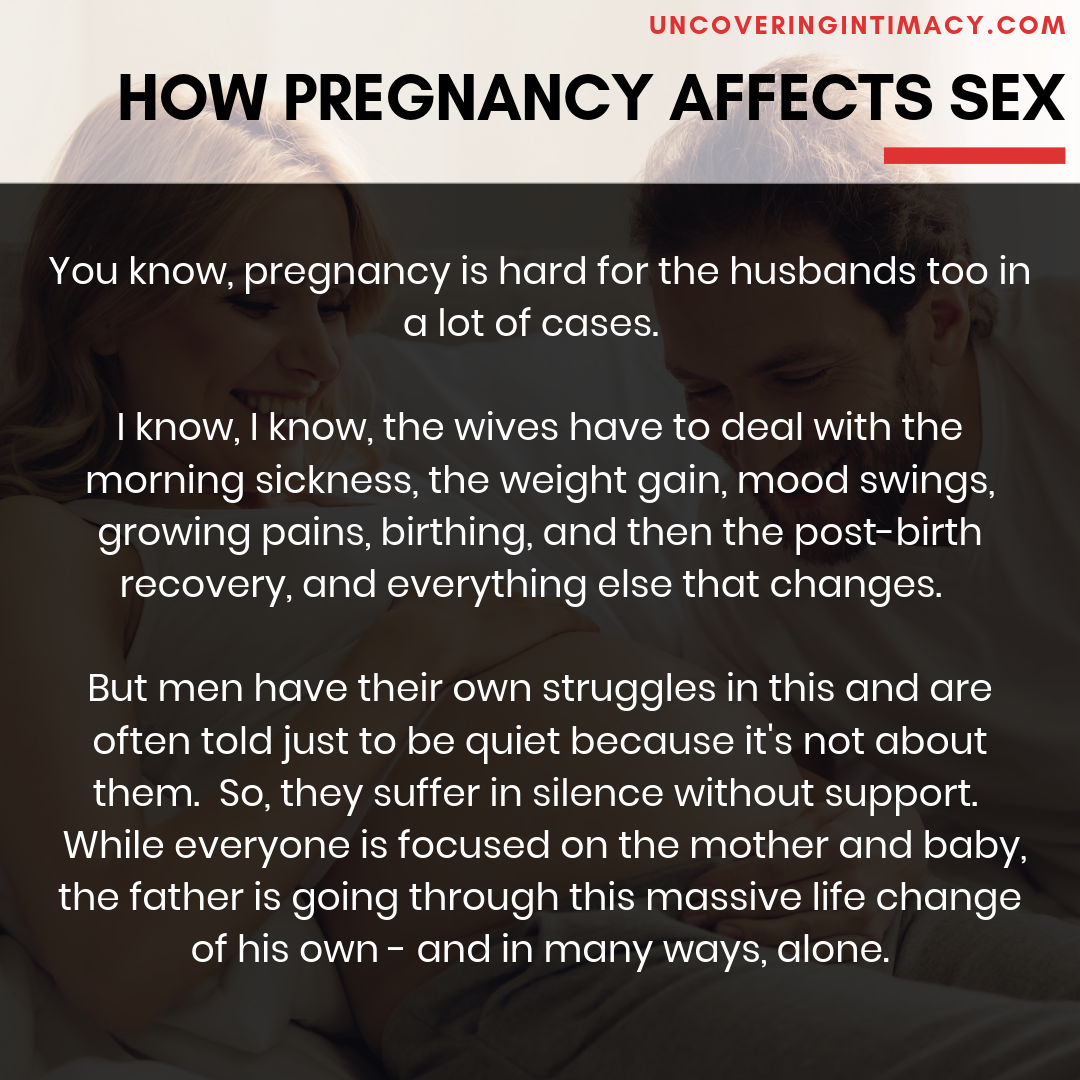 Be patient. Your wife will be yours again soon. If she isn't within a month or two, seek help. Sometimes it happens that the wife forgets to be a wife when she becomes a mother.
Advice for the women
Just show some attention to your husbands.  It doesn't have to be full on sex, you're probably not physically ready for that.  But there are alternatives.  And even if you feel that "getting in the mood" is an impossibility, then just give him the attention he needs.  Guys don't get as much out of hugging and kissing as sex, but, when you're starving, you'll settle for crumbs just to survive.
Final Thoughts
Finally, I just want to say, in order not to give the wrong impression:  Having children is an amazing blessing, I highly suggest it.  It's a life full of sacrifices, but the rewards far out weight them.  I like to say, your kids will destroy your life…but in a good way.
Also, looking back (I'm adding this quite a few years after the original post), there are some marriages that have the reverse dynamic. Some wives want to remain highly sexual, and some husbands do not. If you're in that group, I suggest checking out this post.
Your Turn
Have you been through this? What was your experience?
37 Questions for spouses to ask each other about sex
Subscribe to get the 2 page PDF full of questions to help you and your spouse start to talk about your sex life.