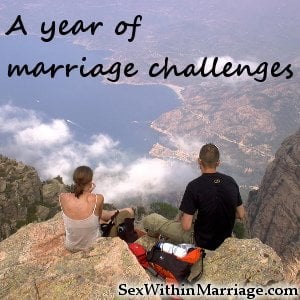 Can you believe the year of marriage challenges is over?  I hardly can.  So, I bet a lot of people are wondering "What's next?" and some more want to know "Where can I get a list of all the challenges?"
Well, I'm working on both of those.  I'm honestly not sure what's next.  I have some big changes I want to implement, but I'm still trying to figure out which is the best way to do it.
As for the list of challenges, we plan to release them as an ebook, but first my wife and I have to actually get through them all.  This year has been difficult for us.  As many of you know, I've been struggling with a daily four-hour commute, and that severely limits both our time and energy.  So, counting the challenges, we only completed 18 of the 52.  Eight more were … half completed, or complete by one of us but not both.  Since we wouldn't want to release something we haven't tried out, we're going to see how many of these challenges we can get through in the next little bit.
Plus, I have to replace some of the challenges with new things as they just don't make sense in an ebook form, rather than a blog post.  So, if you have any suggestions for challenges, feel free to share them in the comments.
So, be patient, they're coming, it's just not done yet.
Notify me when the marriage challenges return.
We're currently planning our next year of marriage challenges with a bit of a twist. This time we're going to make it more interactive and community driven. Just sign up to the right to the be notified about it when it starts.
Looking for help?
---