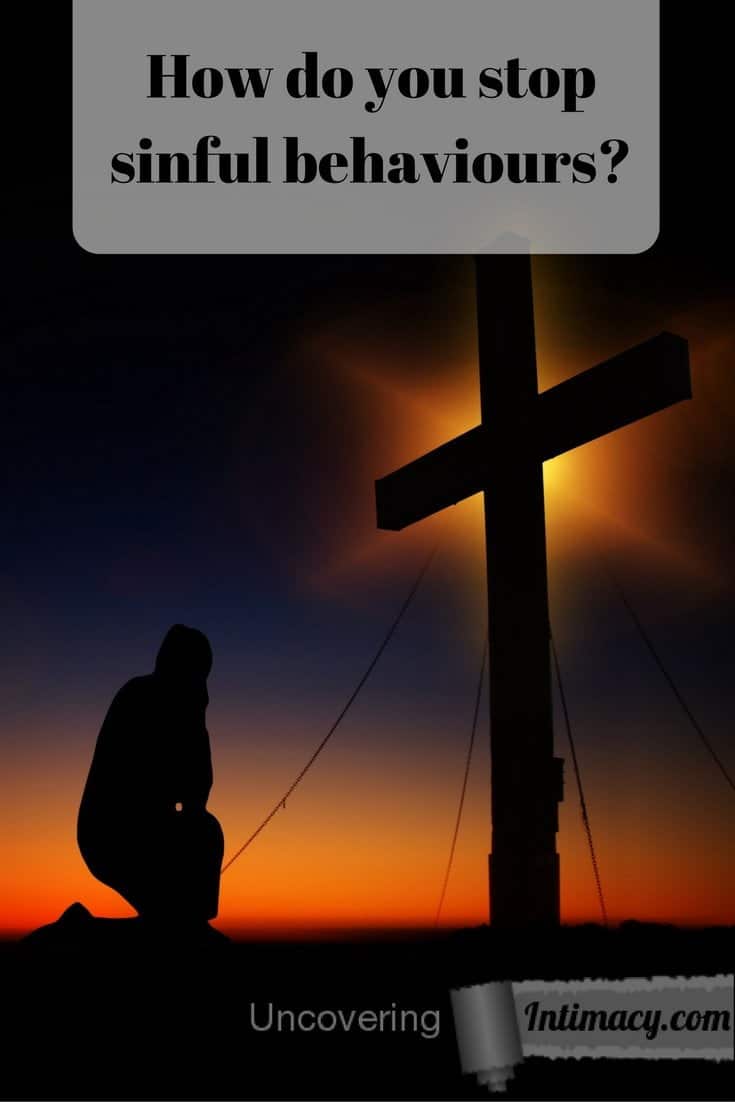 I get a lot of comments and questions from people asking "How do I stop sinful behaviour?" and it's a difficult question to answer.  Whether you're trying to quit porn, yelling at your kids, or overeating, it's really the same issue.  Our sinful nature is alive and strong within us.  And I know this is probably "inappropriate" for Christmas, but I don't care.  I have hurting people now that aren't going to wait until Good Friday.
Unfortunately, don't often have good answers for people who ask these questions.  We tell people to pray.  Or just to stop.  We tell people to rely on God, but not how, or we tell them to try harder.  We give them tricks, but nothing really live-changing.  And so most people continue doing as they have been, only feeling worse about it because they're failing at trying to be perfect.
The answer, Biblically, is that we have to stop trying harder, and we have to start dying.  We don't talk a lot about dying in the Christian faith.  It's uncomfortable.  Instead we prefer to talk about Christ dying, and about His resurrection.  We say things like "you have to die daily", but do we think about what that means?
1.

Baptism is a symbol of death
What shall we say then? Shall we continue in sin, that grace may abound?  God forbid. How shall we, that are dead to sin, live any longer therein? Know ye not, that so many of us as were baptized into Jesus Christ were baptized into his death?  Therefore we are buried with him by baptism into death: that like as Christ was raised up from the dead by the glory of the Father, even so we also should walk in newness of life.  For if we have been planted together in the likeness of his death, we shall be also in the likeness of his resurrection: Knowing this, that our old man is crucified with him, that the body of sin might be destroyed, that henceforth we should not serve sin.  For he that is dead is freed from sin. Now if we be dead with Christ, we believe that we shall also live with him.   Romans 6:1-8 (underlines added)
This is the beginning of "The baptism passage".  It's read at almost every baptism in every denomination, as far as I know.  Too often we focus too much on the living part.  The truth is, this passage talks just as much, if not more, about death and dying than it does about living.  I think this is because while we are still on this Earth, we will spend a lot more time practicing the dying part than the living part.
We have a sinful nature that is very strong.  We don't like to think about that, much less talk about it, but it's true.  All day, ever day, most of what we do is sinful.  It's in our nature.  The Bible says that we can do nothing good on our own, and if we believe we don't sin, we have lied to ourselves and the truth is not in us.  We all sin.  Daily.  Hourly.  By the minute a lot of the time.  This is who we are!  When we become Christian, we learn that this self is broken.  That our very nature is at war with us. That we want to hurt, to maim, to destroy this world.  That every choice we make on our own leads to that end.
Baptism is, firstly, a decision to die.  To die with Christ.  He showed us the way, even though He didn't have a sinful nature.
2.

Our sinful self does not want to die

Our sinful nature is strong through.  It doesn't want to die, it wants to live so that it can destroy more than just ourselves.  It wants to be miserable, to continue an existence of being hurt and in pain.  Strange as that might seem, it's true.  If you never read the comments on this blog, you should.  There are some tortured souls that are our brothers and sisters.  Here's one I saw last week:
I hate-love my pornaddiction. I have struggled with porn for so long and the last year everything has gone worse. I don't know why I can't let it go. I have confessed to my wife and to my pastor and etc. But I can't be free. I often ask myself why do I want it so much? Why do I feel like I need it? Why? I can't find a good answer. Saying that I am selfish and a horrible person doesn't help. I know I am. I know that there are no excuses for me. I know I deserve hell. And feeling worthless makes it easier to fall. So why do I want this?
This is just the beginning of a much longer comment, and I've been in contact with this reader.  But, he's not alone.  He's just more transparent than most.  And it may not be porn that we're dealing with, but we're all dealing with something.  Hopefully.  Because we all have this sinful nature.  We are all destroying ourselves on a daily basis.  Unfortunately, most of us don't even realize we're doing it, let alone want to stop.  We think we're doing okay, that we're stable.  We think we're a "good Christian".
The truth is, the only real difference between Christians and non-Christians is that we know we're sinful.  At least, that should be the differences.  Too many of us think that we're good just because we're saved.  But, if we were good, we wouldn't need to be saved.
We delude ourselves into thinking that now that we're Christian, we're okay.  We don't share about our struggles because everyone else is playing the same game of pretending to be righteous.  The truth is, we don't get to put on righteousness until Jesus comes back (1 Cor 15:54).  Until then, our sinful nature will continuously right to have control.
3.

The battle cannot be won by fighting

And we can't win.  We are not strong enough.  Satan and his demons are angels.  We don't like to think about it, but it's true.  Whatever awe you have for the power of God's angels, you should respect about Satan and his minions.  They are the same beings.  We don't know exactly what powers they have, but we know they are strong.  And worse, they not only have a foothold in our mind, we're already in enemy territory.  They live in us by default.  We're natively theirs.  We can't fight, because we are already the enemy.

So, when we tell Christians to "be strong", I think we give them a false sense of power.  We cannot win.
4.

We need to surrender to God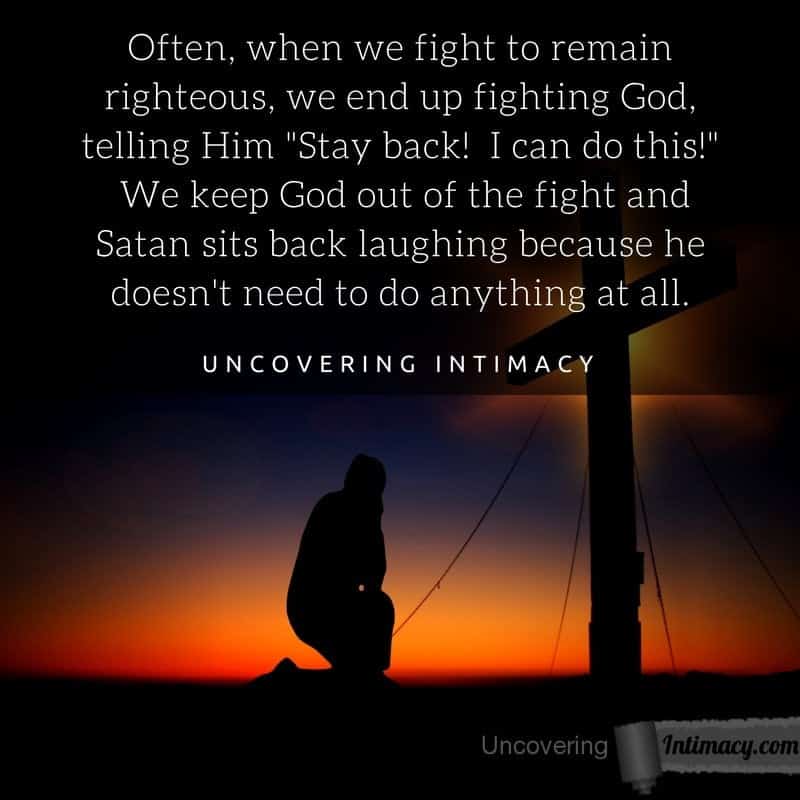 Before we bother trying to fight, before we try to push bad, before anything else, we first need to surrender.  Remember, God is fighting too with His angels.  He's trying to get to us, and most of the time, because we're naturally with the enemy, we fight back against Him!  We keep trying to do it ourselves not understanding that what we're telling God is "Stay back! I can do this!"  We keep God out and Satan stands back, laughing because he doesn't need to do anything at all.  We're already his.
Instead, we need to stop fighting.  We need to realize we've not only lost, we are the enemy.  We need to surrender, to give up.  To let God overpower us.
5.

We need to die.

The fighting comes later.  After we've switched sides, after we've been trained.  After we have the proper equipment and we're pointing in the direction.  Usually, we grow up fighting, not realizing that we wield weapons of mass destruction instead of precision.  That we're blind, actually fighting against God's armies.  That we're pointed in the wrong direction and can't even recognize who the enemy is.  So, when we tell people "you need to fight", we actually do them more harm than good.  They're not ready to fight.

Instead, we need to tell them "You need to surrender.  You need to die.", and then show them how.
For whoever wants to save their life will lose it, but whoever loses their life for me will find it. – Matthew 16:25
6.

We need to keep dying

That baptism is only a recognition of the problem.  It's a symbol of the realization of the problem: that there is no good in me and I need to die.  Unfortunately, our sinful nature is very persistent.  You cannot kill it.  Jesus can, and He will, but not yet.  That work is not done.  And so, we have to continuously die to our sinful nature.  Sometimes it's every day, or every hour.  Sometimes it's every thought.  And when you think you're done.  When you think it's finally dead, you'll realize you've been deceived. And so, you will take up the cross, and die again.

The goal isn't perfection, it's character.  This exercise will never make us perfect.  What it makes us is open to Jesus.  So that when the time comes to choose perfection or destruction, we will choose perfection.  Without this dying to self, without the building of character, our sinful nature will rise up and choose destruction.

So, how do you break these habits?  Step 1: die.  Again and again.  Every day.  Every hour.  Pray that Christ will make your decisions for you.  Pray that you'll ignore your nature.  Don't fight it, just surrender.  I know, it's not exciting, it's not glamorous.  But, that's how you do it.
Looking for help?
---