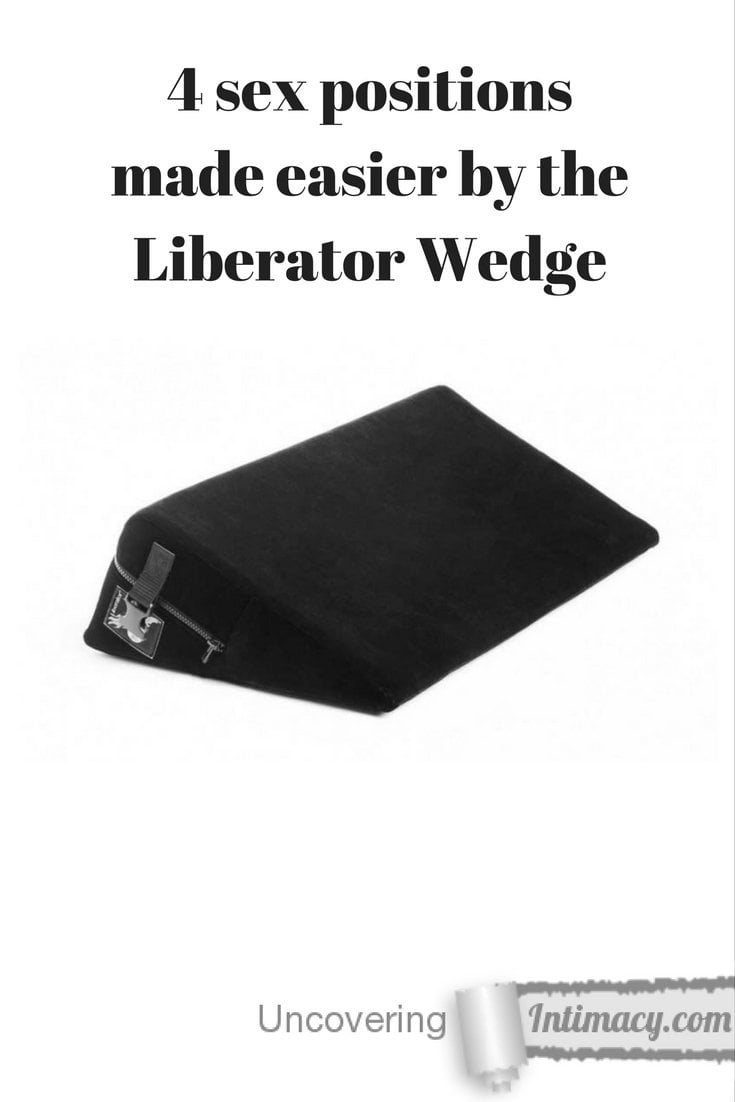 A few weeks ago, I posted an unboxing of my new Liberator Black Label Wedge. Sorry, I had technical problems and the audio didn't work. I'll admit when I learned about the Liberator wedge, I wasn't sure how useful it would be. We've used pillows before to help with positioning, what's the difference, right? How do you justify spending $100 on a … well, pillow for sex.
It doesn't even vibrate! As someone who's been researching and writing about sex for years, I should have known better.
I didn't. This simple little wedge-shaped accessory has been awesome. I'm amazed at how often we use it since we got it. So, I thought I'd share some ways it can be used for those who have trouble envisioning it like I did.
1.

Missionary Position

The biggest problem with missionary position is often making sure you have adequate stimulation of the clitoris. Depending on where the clitoris is positioned on the wife (closer or further from the vaginal opening), it can difficult to achieve this stimulation. The wedge gives you a new range to play around with. It doesn't guarantee orgasms from vaginal penetration, but I think it can definitely increase your chances. If not, then it can at least increase the pleasure.
2.

Rear-entry Position (Doggy-Style)

With doggy-style, the wedge performs a different role. In this position, it acts more as a way of adding some stability to the position. Being up on your hands and knees, for the wife, can feel a little … wobbly. I mean, you're continually being pulled back and then … well, trust forward.

But, with the wedge against your legs for support, you can focus less on maintaining stability and the position, and more on just enjoying the sensations.
3.

Oral Sex

The Liberator Wedge placed under the buttocks of the wife can lift her up to make access to her genitals for oral sex easier. It sort of "opens" the area up making it much easier to navigate all the interesting folds and crevasses.

If the wife is performing oral sex on the husband, the wedge under him will lift up the penis so she doesn't have to bend down so far.

In a 69 position with the husband on the bottom, I've used the wedge as a pillow to raise my head up to make it easier to maintain contact with her clitoris without straining my neck.

Lastly, we found a way to manage a last oral sex position for the first time. We don't have a frame for our bed because we got a good deal on a king sized mattress and boxspring a few years ago, but it didn't come with a frame. We never bothered to get one, because, with young kids, it's handy having it closer to the ground. It's not as far to fall if they're sleeping in the bed, and it's easier for them to get up on to when they're small.

But, a bed without a frame means you can't really do the head-off-the-bed oral sex position. Christian Friendly Sex Positions has unfortunately catalogued this as The Throat Swab. With the wedge, this position is now possible for us. It also has the additional benefit of raising the head so it's not below the rest of the body. So, the pressure from all the blood draining to your head is not as bad.
4.

Manual Sex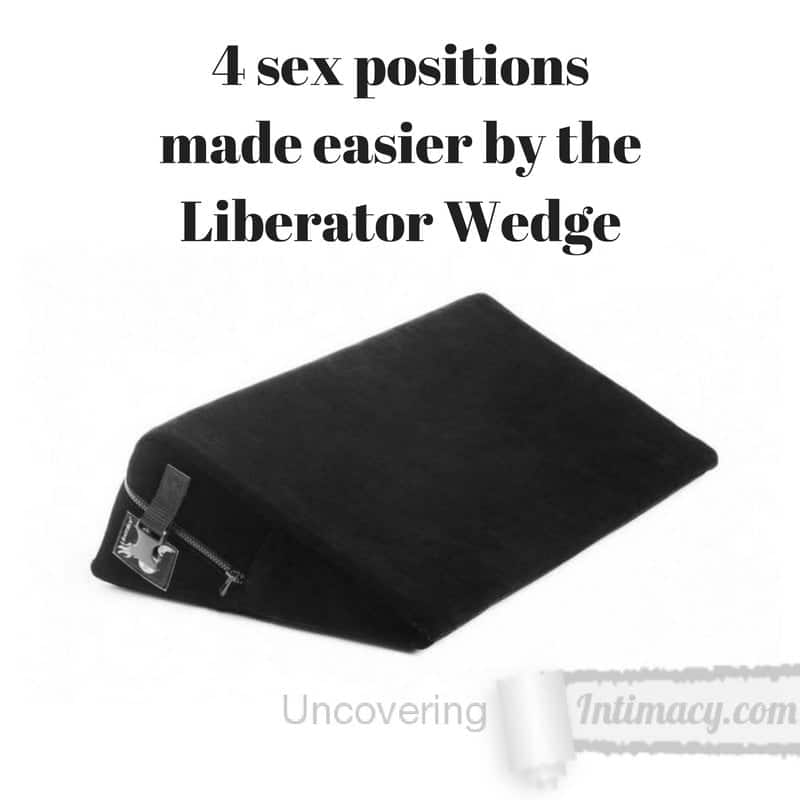 There are two ways we've found that you can use the wedge for manual sex that perhaps aren't immediately apparent.
The first is to put the wedge down, then have the wife lay over it, similarly to doggy-style position. If positioned right, you then have access to both penetrate her with a toy, or your fingers, while simultaneously being able to stimulate the clitoris, either manually, or with a vibrator. Some women have mentioned in the past on the blog that facing down like that let's gravity pull the clitoris down which increases sensitivity, and this position allows for just that.
The second way is to have the wife on her back and the husband kneeling near her head so she that can offer him oral sex. Place the wedge under her buttocks again, which lifts it up and towards him. This makes it easier to reach and strains the back less while trying to stimulate her at the same time. I guess you could consider this an oral sex position, but from my perspective, the oral sex is a bonus, and I'm more focused on the manual stimulation of her. This position works really well for clitoral slapping if you're up for something a bit more … unorthodox.
5.

The cover

The cover is a nice, soft, almost velvety texture, which just feels nice. The best part is that it unzips so you can throw it in the washing machine and dryer and have it nice and clean for use the next time. I don't think I'd care to use it without the cover. The material underneath is very … well, sort of like "waterproof mattress protector" like. I think you'd stick to it during sex and it would be quite distracting. And while that also has a zipper that you can undo to expose the foam underneath, I don't feel it would wash as well. But, I haven't tried to do so either.
6.

Black Label

The wedge comes in two varieties: Standard or Black Label. I opted for the Black Label Liberator Wedge. It costs a little bit more, and it's only available in black, instead of blue, black and red for the standard version, but I think it's worth it. Why? Well, see the clips on the side in the picture? That adds an extra dimension of fun. You can get clips for the Black Label version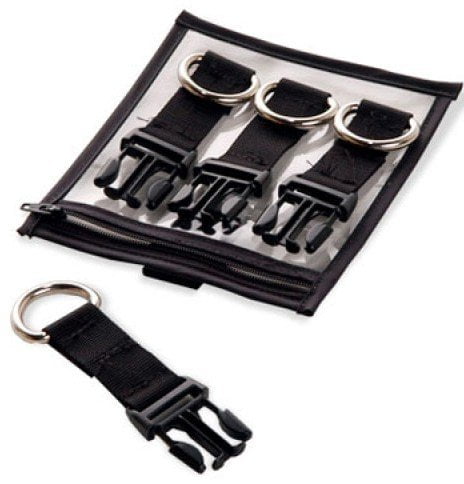 Why?
Well, see the clips on the side in the picture? That adds an extra dimension of fun. You can get accessories for the Black Label version that lets you restrain your spouse. Liberator sells cuffs that specifically clip into these, or you can get universal adapters that simply turn the clips into a D-ring which you can either tie or clip anything to. So, you can use cuffs, if you already have them, or just simply use some old ties, scarves, or rope. Not sure about tying your partner up? You might want to check out these two posts:
7.

Where to buy

If you're interested in getting your own Liberator Wedge, Liberator sells them directly, but in all honesty, their site is just short of pornographic. And that's after trying to create a "safe browsing experience", according to their marketing department.

Instead, I'd check out Married Dance, as I often suggest.  The truth is, their prices are great and the shopping experience is truly safe.  There's the standard Liberator Wedge or the Black Label variety that they added just for me and you can use coupon code UNCOVERINGINTIMACY to get 10% off your entire order.
Looking for help?
---