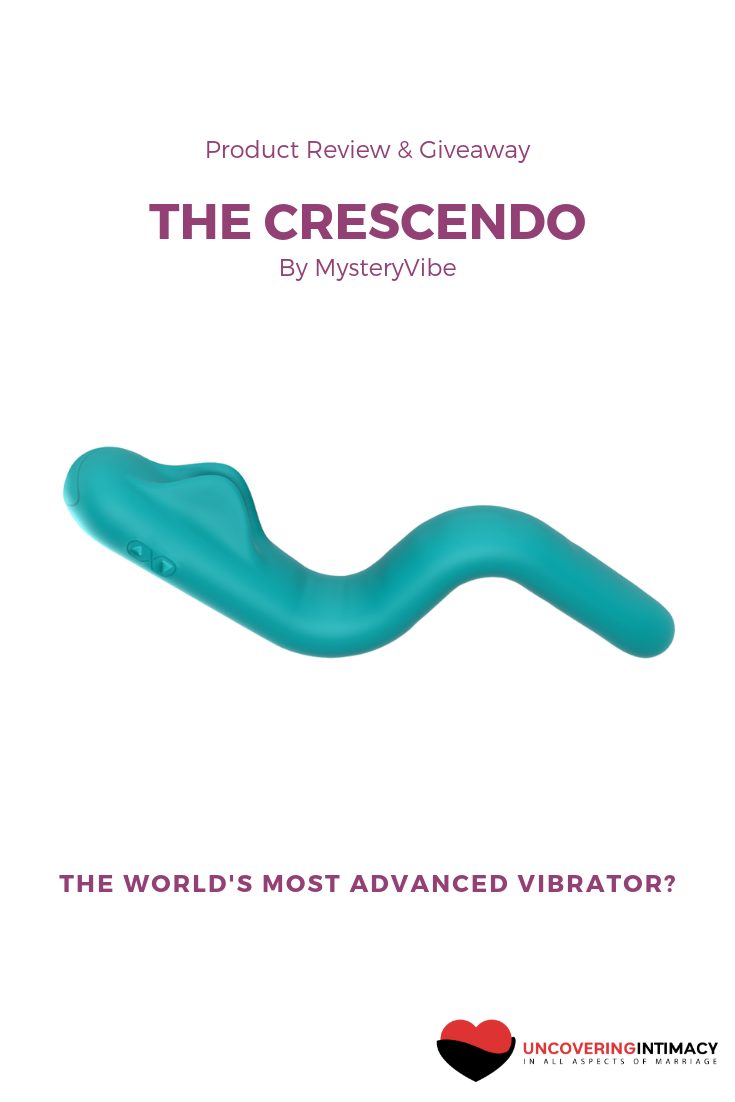 About a year ago, a newer company called MysteryVibe offered to send me their newest product.  Actually, it was their first product.  The Crescendo which has been dubbed "The world's most advanced vibrator".
Now, I'm fairly picky about the toys I'll accept.  For one, I much prefer toys that you can use as a couple, but I'm also not going to bother reviewing something that's just like everything else.  It better have something unique about it.  The one exception to that is if it's a manufacturer I really like, because even if it's just like something else, they tend to make vast improvements.
But, in this case, I didn't know the manufacturer, because, well, they're new.  However, I've never seen a toy so versatile.
Those who have been following for a while know I really like the We-Vibe.  I've owned the original, version 2 and now the Sync  It's bendy, has two powerful motors, and you can use it while having sex.  It's also remote controllable, programmable and the newer versions (like the Sync) is even adjustable.  So, sort of checks all the boxes.
Well, MysteryVibe decided to take this to a new level.  The Crescendo doesn't just have two motors.  It has six all along the body.  As well, it not only bends in one direction, but each segment (it has six pivot points along the body) can bend either forward or backwards.  This means it can fit a lot of different body types and genital configurations.  That's a weird way to say it, but I'm not sure how else to.  You see, while people generally fall into two general types of bodies (male and female), distances between openings, pubic bones, clitorises and the radius of curvature also change from body to body.
The Crescendo is designed to handle this very well.  Check out my product review video to see how this toy bends:
It's also one of the few toys designed to be usable by either men or women, which fits MysteryVibe's tagline of "Luxury Smart Vibrators for women, men & couples".  In fact, the toy comes with a paper showing a bunch of potential positions for using it.  They're just illustrations, which I'm showing a sample of below.
Just a heads up for those who are a little … sensitive to seeing non-hetero depictions, I cut out the examples they show for other gender pairings.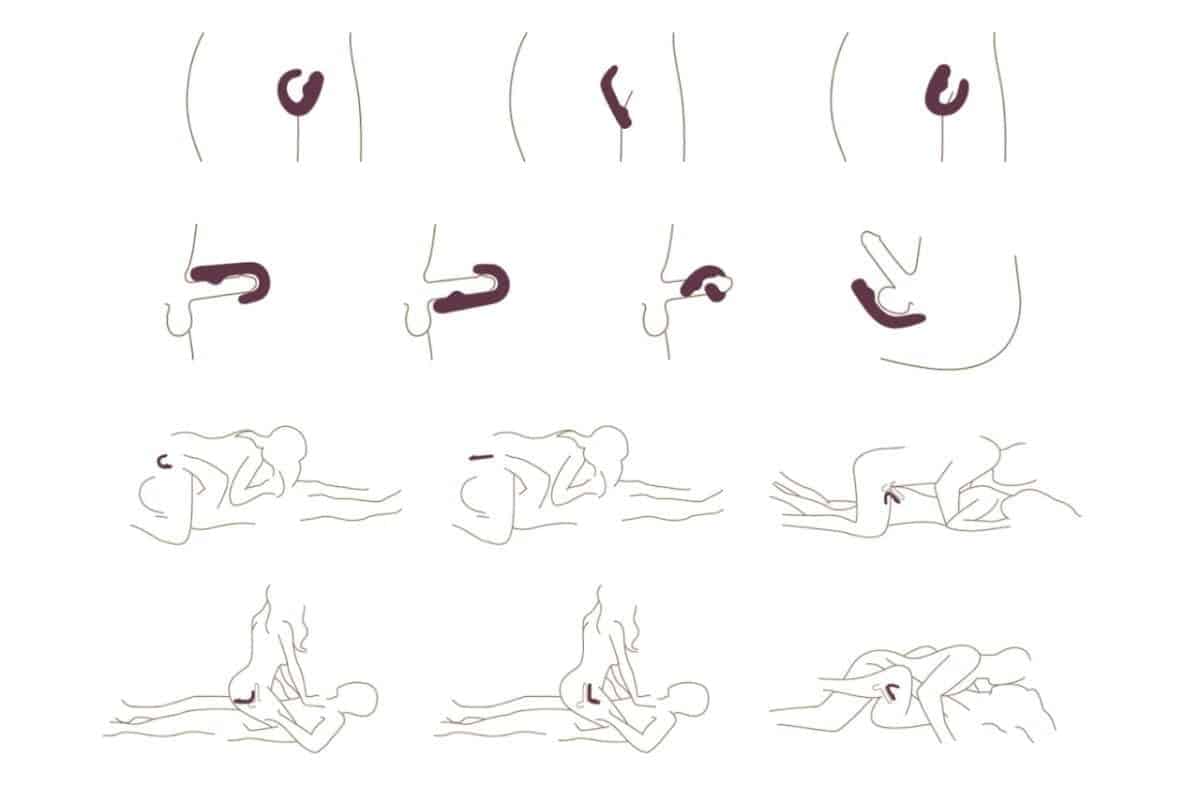 Point is, this is only a sample of what you can do.  This toy is so versatile, I have no doubt you could find some other uses.
In fact, they also have an entire website selling this sex toy as a simple massager, with images showing how to use it for non-sexual massage.  I found this handy graphic (thanks, Google) to give some ideas: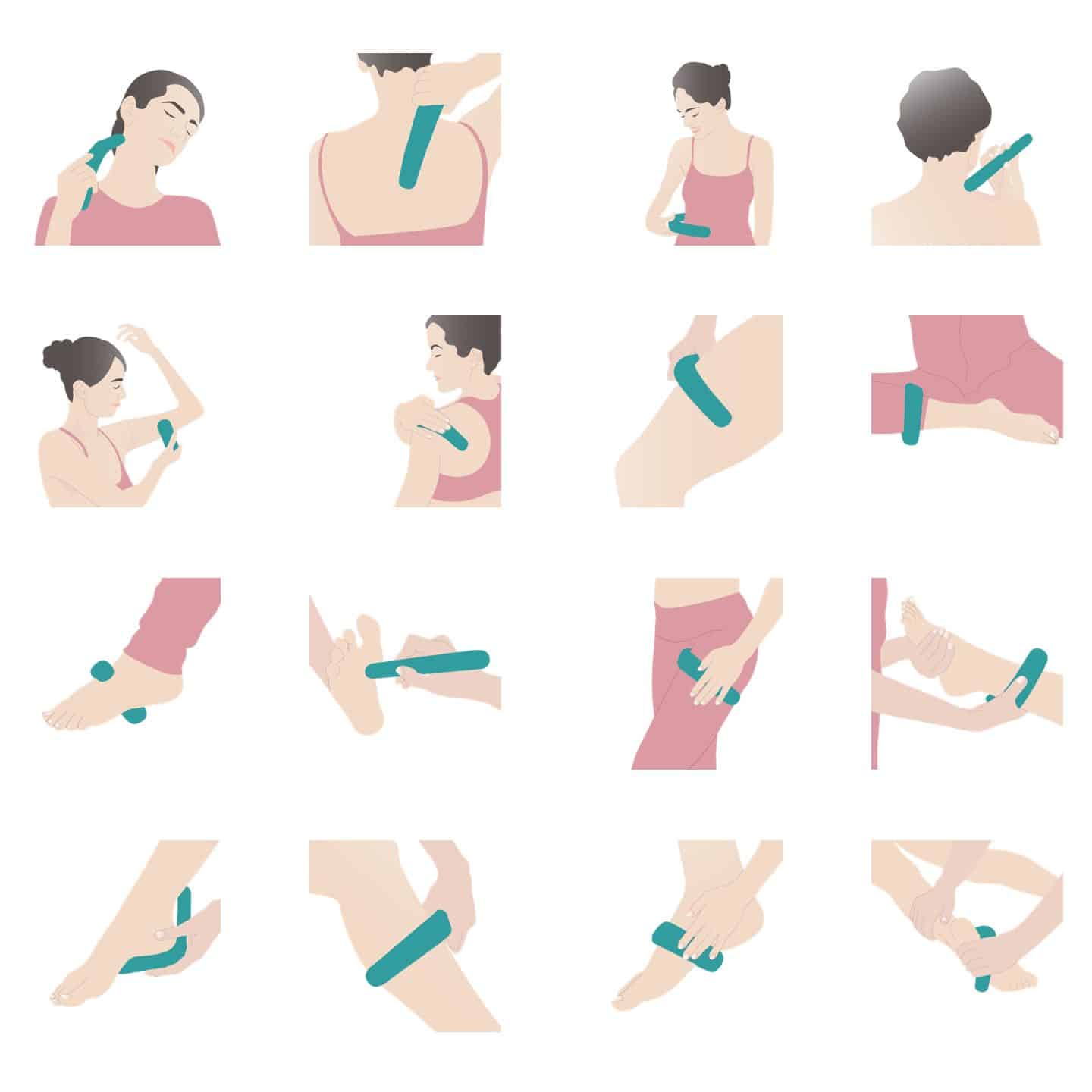 Point is, I'm impressed with just how adaptable this product is.  It's so adaptable, frankly, it took us a bit to figure out some good ways to use it.  Sort of like if you have 200 varieties of jam at the grocery store, trying to pick one makes you pause for a bit.  But, if all you had was a single jar of strawberry jam, you'd be perfectly happy.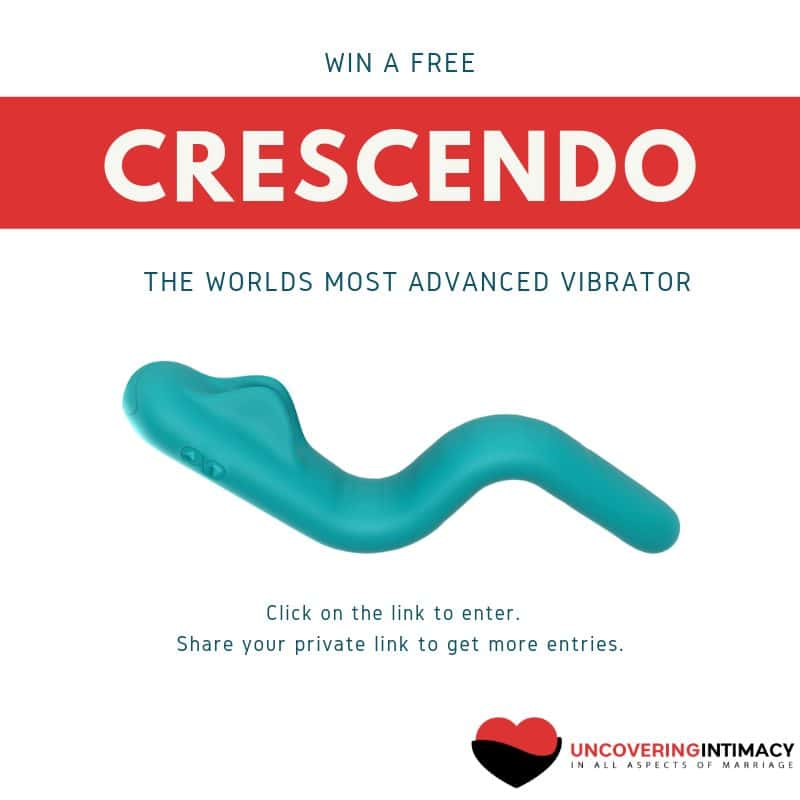 What I'm trying to say is, for the first little bit, we were just mimicking other toys, and so didn't quite see the benefit to having it so versatile.  It's only once we broke out of the box and starting trying things the others couldn't do that we started to see the power of all the bends and curves.
And honestly, I still don't exactly know how to create the best vibration patterns.  Did I mention it's programmable?  You can program each motor individually.  Which is really cool … but a bit overwhelming.  Thankfully, there's a library of patterns you can download on your phone and push to the device, so you don't have to make your own.  However, I did make one: A simple "turn the one at the end on full blast", because, well, sometimes you just want a strong vibrating end, but you don't want your hand at the other end to go numb.
So, what else.
It's waterproof.  The charging is done wirelessly, which means it's a little slow to charge, but there's no chance of getting lube or other fluids accidentally in the charging port.  Also, it holds a charge pretty well.
And, a question I get most often: it's very quiet.  They say "whisper quiet", and that sounds about right.  I just tried it out, and if it's lying on the bed, as high as it goes, I cannot hear it through the bedroom door, even before it's latched shut.  And our bedroom is tiny.  It's about 1 foot from the bed to the door.  That's not an exaggeration.
So, we're still exploring some of the possibilities with this toy.  To be honest, while it's designed for men and women … we really haven't used it on me.  I think we've just been so conditioned that toys are for women that we haven't broken out of that stereotype yet.
But, if you're looking for a toy that can, hands down, this is the one I'd recommend.
So, to wrap up: it's extremely versatile, waterproof, very quiet, adjustable, programmable and remote controllable.  It has 6 motors, 6 pivot points, and I'm not exactly sure what more you can put into a toy.
If you're looking to buy one, Married Dance just started carrying them, and you can check them out here.
Looking for help?
---