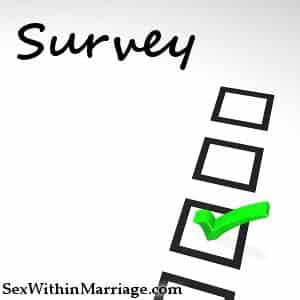 I've been encouraged by the response from our 2016 goals post.  One such response was from one of our readers who drafted a survey to help plan future methods of reaching more people.  So, I tweaked it a bit and built a proper survey out of it, and offer it to you for your consideration.  Now, I know that in the past, people don't tend to like these types of surveys much.  I don't get nearly as big a response when I ask about logistics of the blog as when I ask questions about sex.
So, this time I'm going to add a fairly large incentive.  I happen to have a LELO IDA adult toy that's sitting in a drawer.  Never opened, still in the packaging, a gift from LELO promotions.  I have been looking for a reason to give this away for quite a while.  It's a couple's toy that's valued at about 200 USD (that's what Married Dance is selling it for).  So, I'm going to give it away to one of the survey respondents.  I also have a copy of 25 Questions you're afraid to ask about love, sex and intimacy by Dr. Juli Slattery. But, to qualify, you have to enter your email address so I can contact you to get an address to ship it to if you win.  That's the only qualification you need.  Whatever you answer will not affect the draw in any way, so please answer honestly.
Thank you for participating, for any support you might offer, and good luck!

[gform form="https://docs.google.com/forms/d/1jbaAbwKVzU8xsYECg-H2nGn71-Do1iea3akN6LRBlnc/viewform?hl=en"]
Looking for help?
---