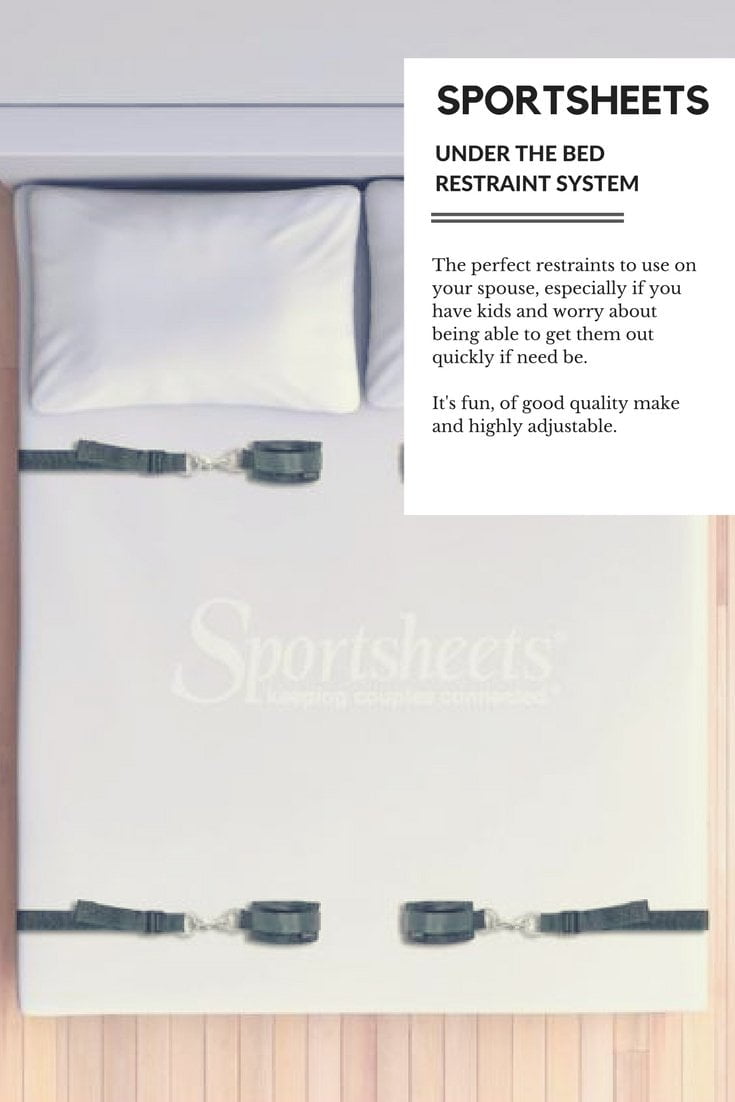 Every month, more than 1000 people come to this blog looking for information on how to introduce bondage into their marital bed or asking why it is that their spouse wants to be tied up. Some of that is due to the 50 Shades of Grey craze, but even before that, it was a topic of interest to Christian couples.
And I think it's a perfect normal thing to desire. If you want to know why I think that, check out this post.
One of the big questions is how to make it easier. After all, ropes and knots are time-consuming. While there can be something fun to the "ritual" or setting up the ropes and tying up your partner to tease, many of us simply don't have that kind of time. And if you have kids who might wake and knock on the door, it can take a while to undo all the knots. So, something simpler and easier to get out of would be handy.
Well, a couple of months ago, Sportsheets sent me their Under the Bed Restraint System to try out. I've been hearing about it for a long time, so I was quite interested in doing some … product testing.
What is the Under the Bed Restraint System?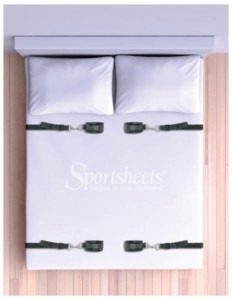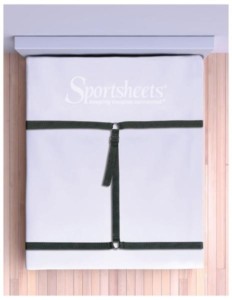 Well, it's actually pretty simple. It's an "H" shaped combination of straps, clips, rings and velcro that end up making about the simplest bondage system you can manage.
The majority of it goes between the mattress and the boxspring, and then when you want to use it, you simply put the cuffs on your spouse and then clip them to the corners that come up around the mattress. See the images on the left to understand what I mean.
The clips take less than a second to either put on or take off unless your hands are covered in lube. Then it might take a little longer.
As well, there are five adjustable straps so you can make it as tight, or loose a setup as you or your spouse would like. It fits everything from a single mattress all the way up to our king-sized with still plenty of room to spare.
As well, it's well built, unlike some other cuffs and things we've been sent. The components are sturdy, not cheap and the straps don't seem to be prone to fraying. As well, the cuffs are lined with some sort of soft fabric which makes them far more comfortable than others.
Our experience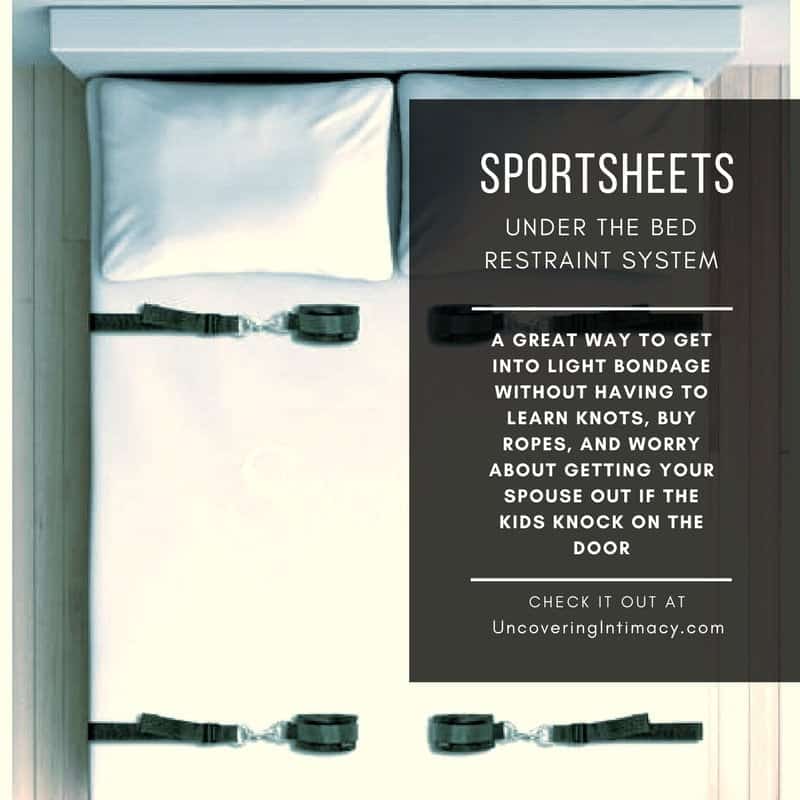 When I asked my wife what I should share in this post, she basically said, "tell them it's super easy to use and that it turned your wife on." And that's really the core "pro" of this product. It's easy to use and has nothing about it that detracts from the fun and pleasure of sex.
This is especially true if you have kids and are worried that they might suddenly knock on the door, or start crying in their cribs. The ease of getting out of the system is great for those situations.
As well, it's extremely compact and could easily be stored in an overnight bag for a weekend away. Whether you're away, or at home, when you're done, you simply tuck the ends under the mattress again and no one is the wiser.
In short, if you're looking for a simple setup where you can immobilize your spouse (partially or more) on a bed, stretched out, unable to stop you from torturing them with pleasure (with their consent of course), then this is the perfect thing to try out.
Christina says: "I was quite surprised how quickly Jay was able to make me immobile! A quick yank on the adjustable strap and I was stuck!"
Where you can buy it
If you're interested in checking it out, you can buy it from MarriedDance.com here. As usual, you can use coupon code UNCOVERINGINTIMACY to get 10% off your order. They're a safe, Christian sex toy store that doesn't have all the inappropriate images that most other places do. So, if this is something you're interested in, I encourage you to head over there and check it out.
Looking for help?
---