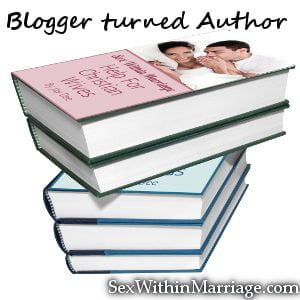 Many people (bloggers, authors, readers) have been telling me for a while that I should write a book, and this year I mentioned that one of my goals was to do just that: write a full length book about marriage in general, not just about sex.
Well, I haven't completed that goal yet, but I took my first step (or perhaps two).  This week, I published two Kindle books to Amazon titled "Sex Within Marriage – Help for Christian Wives" and "Sex Within Marriage – Help for Christian Husbands".


These books are perfect for my new readers (of which there seem to be quite a few lately).  Each book is full of articles based on posts here on the blog, podcasts I've done, guest posts, teleconferences and a couple other pieces.  These are the perfect way to "get up to speed" with the basics of what I write about, how I think marriage should work with regard to sex.  They also make an excellent gift for any couple in the 4-7 year's married range, when real life starts to catch up, and sex starts becoming a challenge.  There is a small overlap between the two books (as some articles equally fit both genders), but for the most part, I've done my best to find the best pieces for each gender, to help you grow in your marriage, particularly in dealing with married sexuality.  Amazon estimates the page length as being 164 pages for the book for husbands, and 144 pages for the book for wives (for the wives: sorry, husbands are less complex, so you get fewer pages (just kidding)).
It's currently selling for $3.99 (USD, prices vary with the exchange rate in other countries), but if you're part of the Kindle Unlimited program it's free right now.
I encourage you to check them out (you can see them both on my author page at Amazon) and I hope they help you learn about your spouse, and how to deal with this amazing gift God gave us: sex within marriage.
If you do end up buying a copy, I hope you will write a review on Amazon to help those couples who don't know about SexWithinMarriage.com as higher reviews increase visibility and that will help our mission here at SexWithinMarriage.com, and thank you to everyone for all your support and kind words.  You make this ministry an easy calling from God and a blessing to us in return.
Oh, and stay tuned, I have another kindle book in the works.
Looking for help?
---